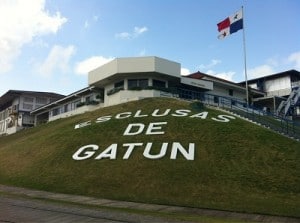 The International Chamber of Shipping (ICS), an organization that represents 80% of merchant shipping is not happy about the potential 15% rate increase to commercials shippers who use the Panama Canal.
In a letter to the Panama Canal Authority, ICS secretary general, Peter Hinchliffe said, there was 'no pressing need' for the increases given that 'canal revenues are currently very healthy'. The letter went on to say that given the current economic climate it's not in best interest to raise tolls.
The ICS is asking for the rate hike to be withdrawn and reconsidered.
The 50-mile Panama Canal connects the Pacific to the Atlantic through a series of locks. Right now some larger cargo ships pay up to $400,000 to transit the canal, a far cry from the lowest toll paid of $0.36 by Richard Halliburton who crossed the Canal swimming in 1928.
Cruise ships pay tolls on a variety of factors including passengers and ship size. Norwegian Pearl once paid $375,600 to transit the canal.  Cruise ship tolls were last raised in 2011.
Video:
Source: ICS
Subscribe to our Cruise News Updates.