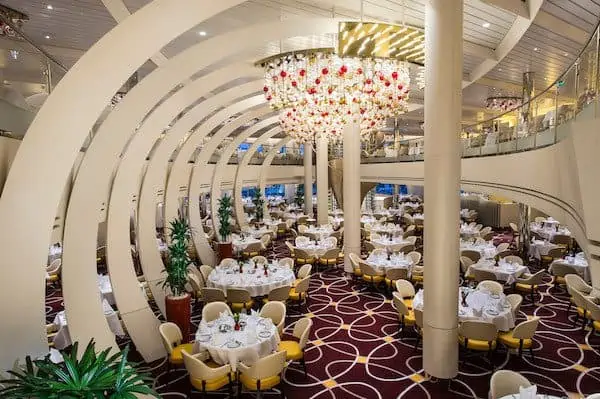 If you know much about Holland America, you know that the cruise line takes their art very seriously.  Case in point: their newest ship ms Koningsdam, which launched last year, is basically a floating gallery whose art is worth a cool $4.1 million.
The ship holds 1,920 pieces, that range in value from $500 to $600,000 and span the decks, public rooms, and cabins.  Over 21 nationalities are represented by the artists whose work is onboard, with the most from the US, UK, and the Netherlands.  The art comes in various forms of media, including photography, painting, mixed media, illustrations, prints, and sculptures.  Many of the pieces highlight Koningsdam's focus on entertainment, music, dance, and movement.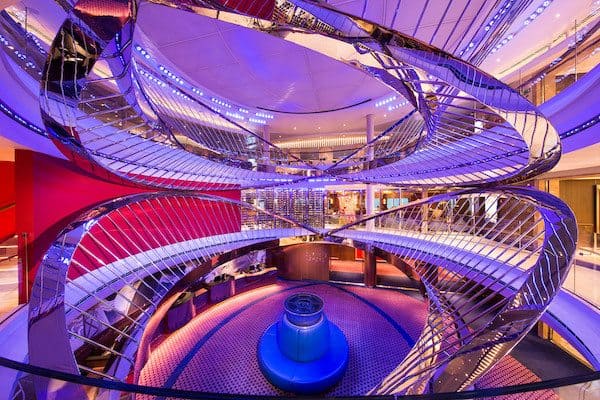 The largest and most expensive work is the sculpture in the atrium, titled "Harps."  It is based on a concept by Adam D. Tihany, who was the driving force behind the entire ship's design.  The $600,000 piece is 7.5 tons of stainless steel, and spans three decks.  Other notable pieces include:
"Quad Helix" light sculpture by Jason Krugman, located in the Queen's Lounge – $174,750
the custom-designed Swarovski crystal globe by Dutch design group Studio Job on Deck 3, mid-ship stairs lobby – $100,000
"Rabbit" by Berg and Meyers in the open-air deck The Retreat, which has turned into one of the most talked-about pieces onboard – $54,000
The large tulip images behind the Guest Services desk by a Netherlands-based artist who was commissioned to photograph the cruise line's signature tulip.  The unique flower only blooms for a few weeks each year.
Hand-painted ceramic Dutch buildings, including canal houses, mills, palaces, and Zaanse Schans houses (greenhouses from a specific region of Holland) inside special tables at the Grand Dutch Café on Deck 3. They are by Royal Goedewaagen.
"Wings of the Pharao" by Dutch artist Peter Gentenaar, whose work was recently featured in the Louvre. The two-story sculpture in The Dining Room is made from cast paper, Belgian linen, and bamboo.
As he has done for all of Holland America's ships, Stephen J. Card, a British maritime painter, created two paintings that are on display in the Crow's Nest on Deck 11.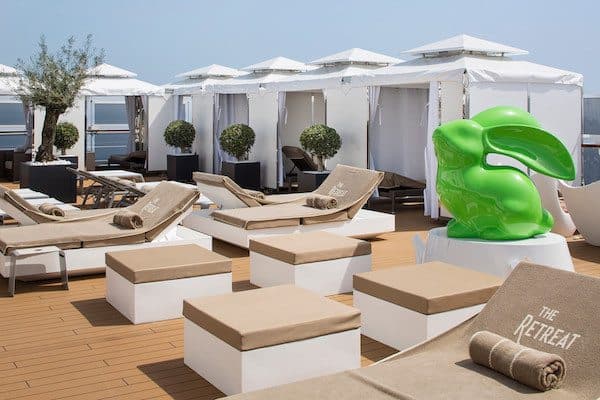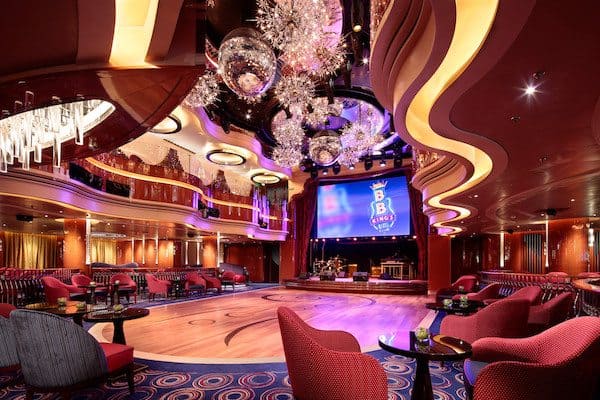 A highlight for many longtime Holland America guests are the historic art objects on display that came from ms Ryndam and Statendam, which were transferred to P&O Australia.
Everywhere you turn aboard Koningsdam, there is a piece of art to enjoy.  It is one of the best collections not only at sea, but in the world.
Photos: Holland America Line