With less than a year to go until the Carnival Horizon makes her debut, cruisers are learning the hard way that Tom Petty & The Heartbreakers were right when they sang that the waiting is the hardest part. But new photos from the Fincantieri shipyard in Italy give us at least a glimpse into how things are going as construction on the 133,500-ton ship gets ever closer to completion.
What We Can Tell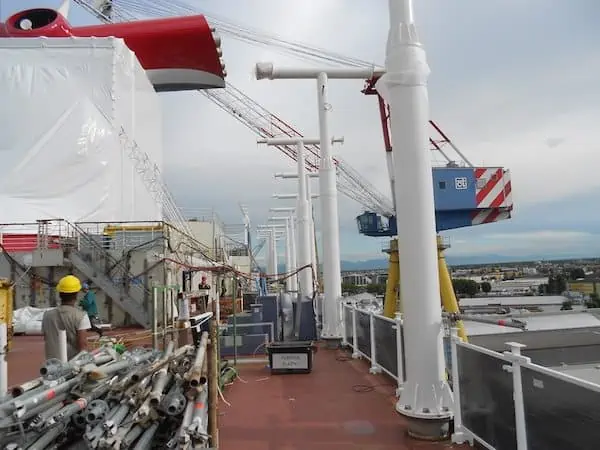 Want to get a Carnival cruiser excited? Show them a pic of the instantly recognizable red, white and blue "whale's tail" funnel. (Fun fact: The infamous design made its debut on the Carnival Tropicale, which was the first ship specifically built for the line, back in 1982!) Coincidentally, one of the crane's at the shipyard shares the color scheme!
The second pic offers a view of the mechanics which will hold in place the poolside LED screen which will anchor the 270 square-foot Seaside Theater. Look closely, and you can also make out what sure looks to be part of the SkyRide track. For those who may not know, the SkyRide — basically a suspended bike lane allowing you to get a great view while pedaling around high up in the air — was introduced on Horizon's sister ship, the Carnival Vista and has proven wildly popular.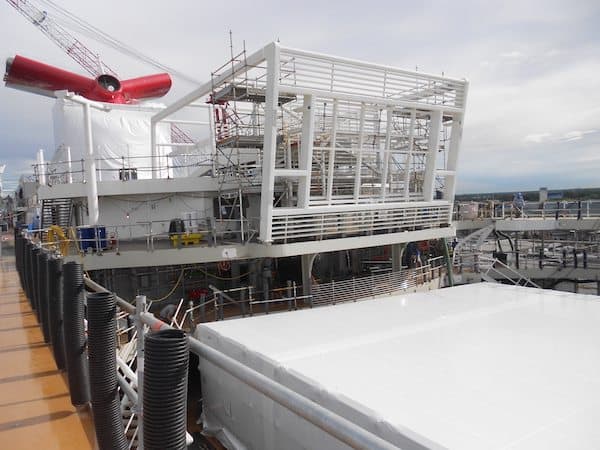 But it's the third picture that really gives you an idea of just how far along Horizon is. Heck, if we didn't know better, we'd think she was only a few weeks away from completion. But of course, there's much more to be done… and that's not including all the exterior features which have to be constructed!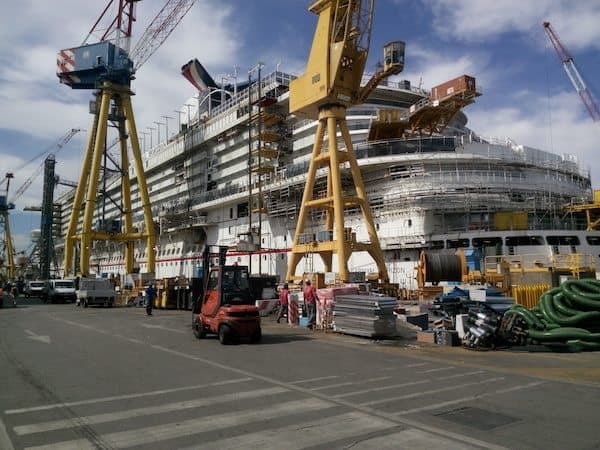 When She'll Set Sail
If you're looking to book one of Horizon's maiden voyages, you'll want to set aside a little time in April of 2018. Her first cruise will be a 13-day Mediterranean sailing out of Barcelona. Following four round-trip sailings out of that port, she'll make the long voyage to New York City, with that 14-day transatlantic taking place from May 9-23rd of 2018. Horizon will then spend the summer sailing four-day trips to Bermuda and 8-day journeys to the Caribbean from the Big Apple.
In the fall of 2018, Horizon will — like many snowbirds — ditch New York City and head for warmer climates. As of late September, she'll begin ferrying passengers from Miami to the Caribbean on 6- or 8-day trips. (Want to enjoy a special one-time-only 2-day trip? She'll sail from Miami to Nassau on September 20, 2018!)
What Will Be On Board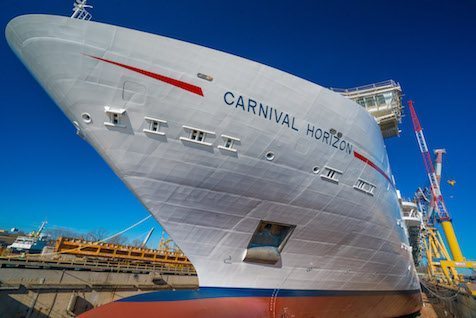 The ship — which will be helmed by Captain Luigi De Angelis, a 22-year veteran of Carnival Cruise Lines — will feature many of the attractions and venues which have made Carnival Vista such a hit, including a slew of indoor and outdoor dining options and entertainment venues. The ship will also have a huge Dr. Seuss Waterworks, the Havana Bar, an Imax theater and more. Want to explore the ship more? Check out our detailed Carnival Horizon deck plans!
Are you sailing on Carnival Horizon? 
Photos: Carnival Cruise Line