Under constant pressure to reduce their carbon footprint, cruise lines have been exploring alternative energy sources for a long time now. The move toward a more sustainable product has accelerated in recent years, and is now starting to bear some real fruit.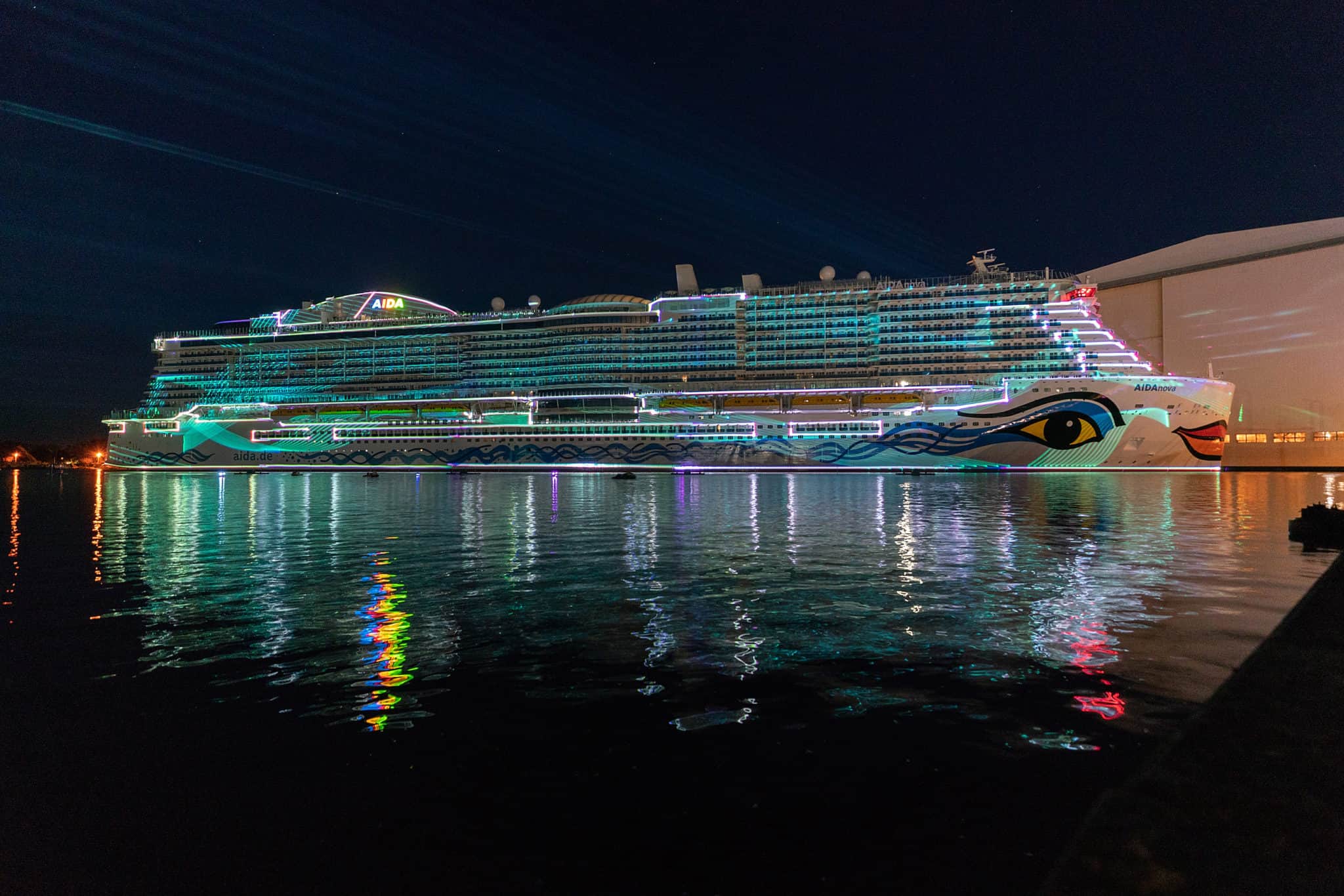 One of the biggest trends is the use of liquefied natural gas to power cruise ships. The first passenger ship to employ LNG was Carnival Corporation's AIDAnova, which debuted in 2018. 
Since then, more than 20 additional LNG ships have been announced. One of those, Carnival Cruise Line's first mega-ship, the 5,282-passenger Mardi Gras, is due to start sailing in North American waters this year. Disney Cruise Line, Princess Cruises, and Royal Caribbean all have LNG-powered ships on order.
What are the benefits? LNG is a clean-burning marine fuel that can cut sulfur emissions by as much as 99 percent and nitrogen oxide emissions by up to 85 percent. Overall, it reduces greenhouse emissions by up to 30 percent and largely eliminates particulate matter from ship exhaust.
But LNG is still a fossil fuel with finite reserves. Some estimates say that at current consumption rates, the world's known natural gas reserves will last about 50 years. Assuming that other legacy marine fuels will also grow scarcer over time, what's the next solution?
There are several potential options, including hydrogen, ammonia, biofuels — even nuclear power. As with LNG, each of these options comes with pros and cons. 
What's increasingly clear is that electricity will play a role. That's not a big surprise when you think about some of the major developments in battery storage in recent years, not to mention the advances made in the field by the automotive industry. But cruise ships are on a different scale. And batteries are heavy, a prime consideration when taking into account, well, that ships have to stay afloat!
You won't see anything the size of Mardi Gras powered exclusively by electricity in the near future. As reported in a recent Bloomberg story, the International Chamber of Shipping says a typical large container ship would require the power of 10,000 Tesla S85 batteries every day. But as batteries get smaller and capacity expands, there are some major developments on the electric front.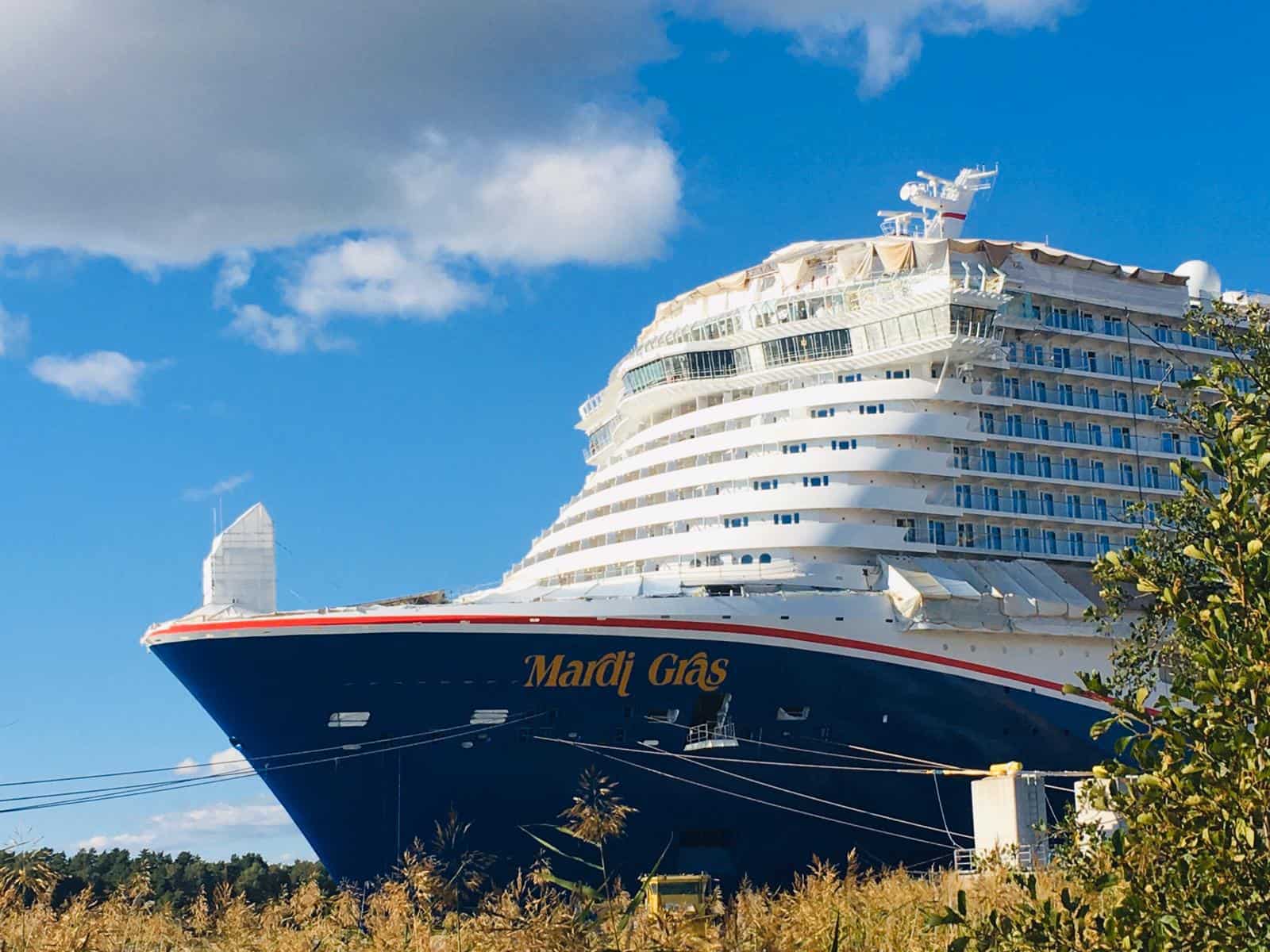 One comes in the form of the MS Roald Amundsen, a 530-passenger vessel recently welcomed as the world's first hybrid electric-powered expedition ship. The innovative vessel from Norwegian line Hurtigruten channels excess energy from its engines into massive onboard battery packs. It can operate solely on electric power for short durations, and the stored energy can give the ship more power when needed.
Hurtigruten, which has a stated goal of becoming emission-free within 20 years, says the hybrid technology powering the Amundsen will reduce fuel consumption and carbon emissions by 20 percent. 
That's only the beginning for a company that focuses on exploring polar waters and whose crew and guests have witnessed firsthand the effects of climate change. Hurtigruten is in the process of converting at least six of its ships so they will run on hybrid energy systems combining biogas made from fish farm organic waste, battery packs, and LNG.
"We believe that businesses should be leading to a much larger extent than they do today and that's why we've chosen to lead by example and why Hurtigruten is doing a lot of investment in this area," the company's CEO Daniel Skjeldam told Forbes in a 2019 article. 
"Our ambition as a company is to be completely emission-free," Skjeldam added. "Unfortunately that's not possible with today's technology on ships but we are pushing technology on our ships in a way that we feel will make it possible to operate completely emission-free."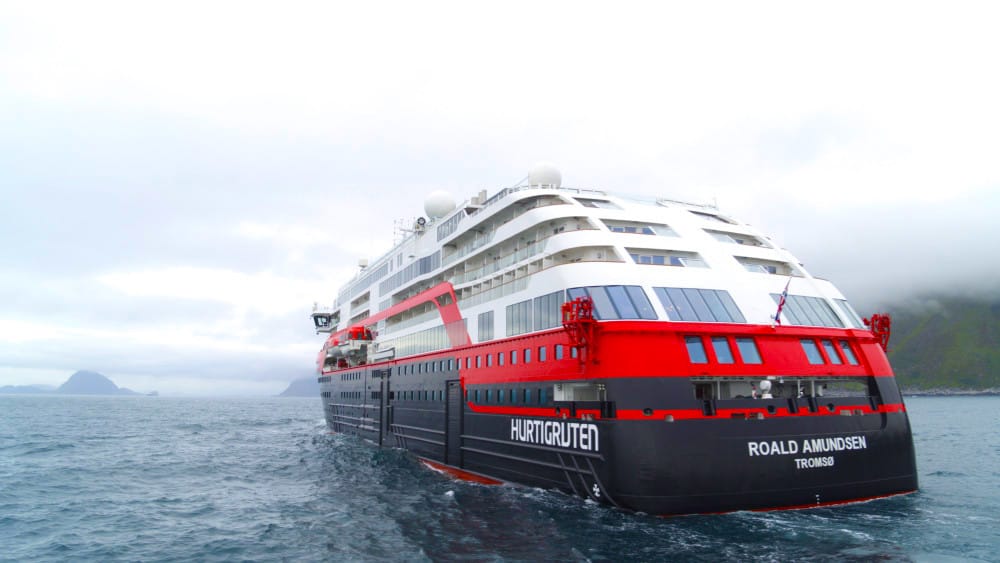 In a further development, August 2019 marked the debut of "E-Ferry Ellen," the world's largest all-electric ferry. The ship, capable of carrying 30 vehicles and 200 passengers, connects the small island of Aerø with mainland Denmark, a route of 22 nautical miles. Its battery system was unprecedented on its launch date, with a capacity of 4.3MWh.
Europe is a leader in the research and development of eco-friendly ship propulsion, but several countries are now building all-electric ferries. The technology at this stage is ideal for short-haul scheduled routes between two points, so ships can recharge between runs.
China is another hotspot for advances in electric-powered passenger ships. The Junlyu, China's first 100 percent electric sightseeing vessel, debuted on the Yangtze in Wuhan in late 2019. 
The double-decker can carry up to 300 passengers and all the ship's power comes from lithium batteries. A single charge takes six hours and enables a traveling distance of 120 km. As well as discharging no pollution, the Junlyu is much quieter than a traditionally-fueled ship, reducing disturbance to marine life.
Late this year, the Yangtze River Three Gorges 1 is scheduled to debut on the Yangtze in the popular Three Gorges area, where it will offer day trips with names like Two Dams and One Gorge, the Yichang Yangtze River Night Cruise, and the Three Gorges Shiplift. 
Built in partnership with the Chinese government, the ship will get all of its power from 10,000 battery cells, divided into four separate compartments for safety. The battery capacity will be unprecedented for a ship — 7.5 MWh, the equivalent of 75-100 long-range electric cars. Emitting no particulate matter, the ship's battery-powered electrical propulsion system is expected to displace 17 tons of nitrogen oxide per year.
Clearly, electricity will play a major role in the future of cruising. The only question now is when and just how far the industry can take these developments.
READ MORE: Report: Cruise Was a Major U.S. Economic Contributor in 2019