P&O Cruises Australia announced the arrival of their two brand new ships, Pacific Eden and Pacific Aria in Sydney, Australia today.  The cruise line held the naming ceremony via social media; a world-first.  Australian singer Jessica Mauboy and actress Kate Ritchie christened the ships simultaneously via Twitter as the ships sailed on ether side of Fort Denison.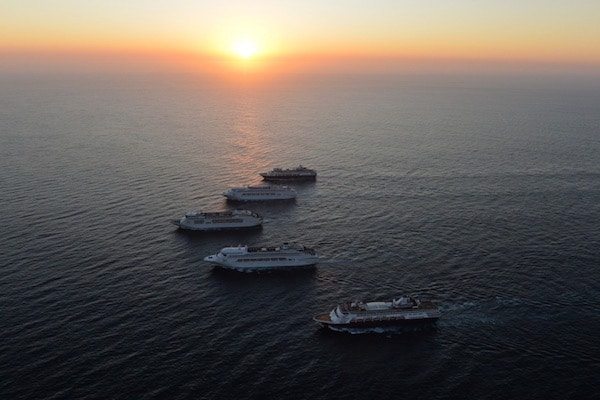 They hosted quite the celebration, including a five ship spectacular in the Sydney Harbour, the most ships from one cruise line ever to be in Sydney Harbour simultaneously.  They sailed in formation making a one-of-a-kind spectacle that was an honor for everyone involved.  The ships will stay in the harbour all day and the guests onboard will be able to experience live concerts from over 25 musical acts.  The celebration will come to a close with fireworks tonight.
The naming ceremony for the Aria and Eden were attended by key industry members as well as two special young guests, Sydney sisters Aria and Eden Mulligan.  They were given the roles of "junior godmothers" of the two ships that coincidentally share their names.