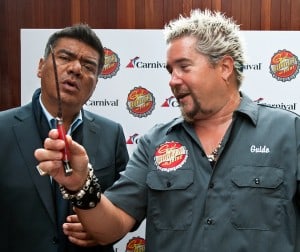 Carnival Cruise Lines announced $500 million dollars worth of enhancements spanning through 2015.
John Heald, who came over from Carnival Magic just to emcee the event was in high spirits and very passionate about the brand and the announcements.

PLAY IN POP-UP PLAYER
Dining
For added dining , TV personality and Celebrity Chef Guy Fieri has joined forces with Carnival to bring Guy's Burger Joint. Guests will have the their choice of homemade burgers made with choice ground beef and complimented with hand-cut fries. This will be a lunch or dinner option for guests, topped off with their own condiment bar. Also added will be a new Cantina with Mexican delights like to order burritos and tacos. All complimentary.
Comedy
Comedian George Lopez has revamped the Punchliner Comedy club, adding some of his own talent and appearing on some of Carnival's ships personally. The Punchliner Comedy Club Presented by George Lopez will have pre-recorded video and voice messages from Lopez. Carnival will launch Punchliner brunch as well offering entertainment in the main dining rooms on-board.
Bars
Carnival is giving bars at sea a new name. Carnival partnered with sports video game company EA SPORTS to bring an interactive sports bar at sea. Not only will there be tournaments and trivia but 16 46-inch big screen TV's and a 24/7 live sports ticker. To expand on the ever-so-popular Red Frog Pub that was introduced on Carnival Magic, Carnival will be adding Red Frog Rum Pub and BlueIguana Tequila Bar. For the folks that are cruising to heal their sorrows, Carnival is adding an Alchemy Bar where passengers will create their own drinks on a prescription pad. The Library Bar will be added also, being coined "an intimate cocktail lounge."
Entertainment
Carnival is taking entertainment to the next level with Playlist Productions, 30-minute shows with LEDs, special effects, and sing alongs. Teaming up with game leader Hasbro, Inc. to create interactive game shows at seas. Also Carnival is teaming up with DJ Irie and creating Spin'iversity for folks who want to learn to mix music.
The first ship to roll out will be Carnival Liberty, followed by other ships during the next couple years. You can get the entire fleet schedule here.