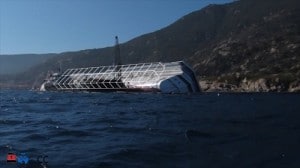 Popular Italian shipbuilder Fincantieri was awarded the contract to build thirty caissons (steel boxes) that will be used to float Costa Concordia in the next few months. The 30 steel caissons will be built at three different shipyards and will have a combined weight of 11,500-tons.
Once the ship has been stabilized, caissons will be fixed to the upper side of the hull and gradually filled with water as part of the operation to right the ship; righting will be performed using a system of "strand jacks" – a hydraulic mechanism for pulling cables – fixed to an undersea platform. When the ship is upright, caissons full of water also will be fixed to the other side of the hull.  Then the caissons on both sides will be emptied to refloat the wreck; once floated, the wreck will be towed to an Italian port.
Costa Concordia is expected to be stabilized by the end of July with staging efforts to float the ship soon after.
The whole process is expected to take 12-months.
Source: NewmanPR
Subscribe to our Cruise News Updates.
Related articles