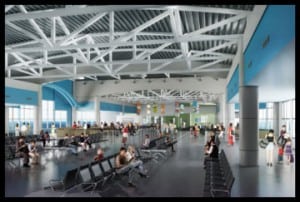 Port Everglades is embarking on a $54 million renovation project to transform four existing cruise terminals into modern passenger facilities for more than 30 different Carnival Corporation cruise ships as well as cruise ships from other lines.  Cruise Terminals 2, 19, 21 and 26 will begin by the end of April, with completion dates ranging from mid-December 2012 through early June 2013.
Cruise lines operating ships of various sizes and capacities will be able to process embarking and debarking passengers at the same time from each of the terminals. All terminals will have two passenger loading bridges, separate and larger baggage halls, improved ground transportation areas and new Florida-inspired artwork.
An estimated 1,000 construction jobs will be created by the terminal renovations, equating to $40.7 million in personal income and $3.7 million in state and local taxes, according to an economic impact
Source/Photo: Port Everglades
Subscribe to our Cruise News Updates.