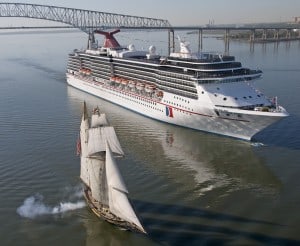 The port of Baltimore has seen a surge in cruise traffic between 2009 and 2010 with 210,549-cruise passengers traveling through the port last year. The port now stands #5 in east coast departure ports and nationally the port ranked #12, trumping Jacksonville and Alaska
for its new spot.
In 2011 the Port of Baltimore has a new record of 112 year-round cruises offered by Carnival, Celebrity, and Royal Caribbean. Cruises sail to the Bahamas, Bermuda, Caribbean, and New England/Canada. Recently, Carnival recently signed a new five-year extension to continue cruises
from Baltimore. In 2010, 90 cruise ships sailed from theport of Baltimore.
The top five cruise ports on the East Coast for passengers in 2010 were Miami, Port Everglades, Port Canaveral,New York, and Baltimore.
Source: Port of Baltimore