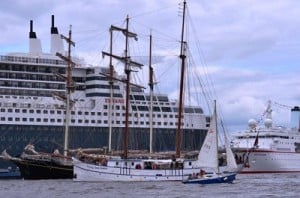 The Port of Hamburg will be visited a total of 33 times by cruise ships in May. While the volume of passengers for the whole of 2008 stood at 89,000, passenger turnover in May 2012 alone is anticipated to hit the 94,000 mark. Eight cruise ships ('AIDAblu', AIDAluna', 'AIDAmar', 'AIDAsol', 'Deutschland', 'Le Boréal', 'MSC Lirica' and 'Queen Mary 2'), the 'Star Flyer' and the training vessel 'Alexander von Humboldt 2' all made an appearance on the port's 823rd anniversary (May 11-13).
In addition, this month will also witness three maiden visits, five double visits, three triple visits, one quadruple and even one quintuple visit.
The crowning glory was surely the world's biggest ship's christening involving the "AIDAmar". Accompanied by three sister ships, the latest ship in the AIDA Cruises fleet was named on Saturday evening in an elaborately staged event at the Port of Hamburg. Hundreds of thousands of spectators followed the exceptional naming ceremony.
Source: Port of Hamburg
Subscribe to our Cruise News Updates.