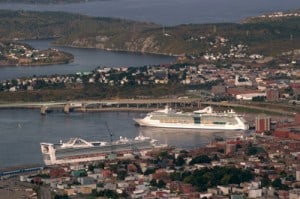 The Port Saint John 2012 cruise season began Tuesday, June 5 with the arrival of Carnival Glory and winds up 146 days later on October 29 with Brilliance of the Seas.
A tradition, started last year, will be continued this year on June 5 with the presentation of the Explorer Telescope to the Captain Salvatore Rassello, commemorating the first cruise visit of the season.
The 24th cruise season at the Port of Saint John will include 73 ships, more than 187,000 passengers and 74,000 crew.
This year there will be inaugural calls from Disney Magic (June 13), Grande Mariner (August 26), Emerald Princess (September 30), Quest for Adventure (October 4), and Artania (October 8).
Disney Magic will call a total of nine times over a three-month period and joins Carnival Glory as regular caller though the summer part of the season. This year Carnival Glory has added sailings from Boston to Canada New England which opens up a new market for the cruise line who previously sailed only from New York to this area. Queen Mary 2, a favorite in Saint John, will call the Port twice in 2012.
The season includes 11 double cruise ship days and 2 triple cruise ship days.
A highlight of the year will be the September 5 opening of the new Diamond Jubilee Cruise Terminal.
Source: Port Saint John
Subscribe to our Cruise News Updates.