The Port of Seattle and Norwegian Cruise Line Holdings have opened their new Bell Street Cruise Terminal at the Pier 66 building and held a grand reopening celebration for it today.  The newly renovated terminal features three times the square footage within the same walls of the prior facility, and has been custom designed to handle the 4,000-guest Norwegian Bliss.  It will be the largest cruise vessel on the west coast, arriving in time for the 2018 cruising season.
In August 2015, the Port of Seattle signed a 15-year lease with Norwegian Cruise Line Holdings (parent company of Norwegian Cruise Line, Oceania Cruises, and Regent Seven Seas Cruises), and the deal secured berth space for the company's ships for the full term.  Norwegian will manage cruise operations at Pier 66 and will have priority rights to the cruise ship berth during the cruising season.  The port will operate the facilities outside of the season.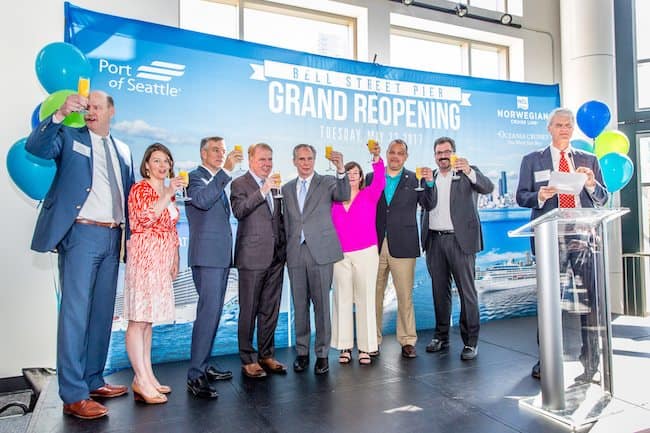 The terminal renovation cost an estimated $30 million, and has been designed to repurpose existing areas to enhance the guest experience.  The expanded VIP lounge and check-in area will have exterior views of the ship and Elliott Bay.  Other improvements include a modified passenger boarding bridge and a new state-of-the-art gangway with floor-to-ceiling transparent walls.
The investment to complete the renovations were shared between the port and Norwegian.  The 15-year agreement is estimated to generate $2.3 million in business revenue to the region, as well as nearly 900 jobs and over $65 million in state and local taxes.