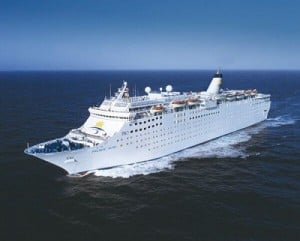 P&O Cruises' Pacific Sun departed Brisbane this week  for its final voyage before it leaves the cruise line's fleet.
Pacific Sun has been sailing with P&O Cruises since 2004 and has carried more than half a million passengers on hundreds of holidays over that time.
The 47,000-tonne ship was sold by P&O Cruises earlier this year as part of Carnival Australia's continuing fleet renewal.
Ann Sherry, CEO of Carnival Australia, which operates P&O Cruises, said Pacific Sun had been an enormously popular ship.
"Pacific Sun has carried hundreds of thousands of Australians and New Zealanders on great holidays and helped build demand for cruising," Ms Sherry said.
"When Pacific Sun joined our fleet eight years ago, Carnival Australia had two ships based in Australia and now we have seven – so she has certainly played a role in that growth."
Pacific Sun's final cruise is a Pacific Island seven-night voyage.
Source: P&O Cruises
Subscribe to our Cruise News Updates.