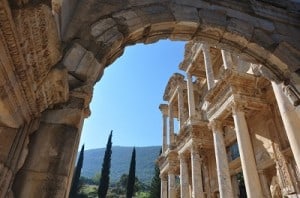 After sorting through the more than 57,000 cruise vacation photos that were submitted to the Princess Cruises "1,000 Memories at Sea" photo contest, judges have chosen an image of the soaring columns of Ephesus submitted by Christine Svircev of Illinois as the grand prize winner.
The winning photo depicts the grandeur of the ruins of the ancient city of Ephesus, a landmark archaeological site in Turkey. As the winner, Svircev has won a cruise for two aboard the new Royal Princess, which debuts next year.
An additional 999 images were also chosen by the judges, and all 1,000 photos will be displayed on the walls of hallways between staterooms and in other locations aboard Royal Princess, when the cruise ship sets sail in June 2013.
A special web page showing all winning photos is available at: https://www.princess.com/royalprincesscontest
"The judges were amazed by the staggering number of great images that were entered in this contest," said Rai Caluori, Princess' executive vice president of fleet operations. "We didn't have an easy time, but in the end we think the 1,000 photos that were selected are certainly worthy of being immortalized on the ship. We hope all the winners have a chance to sail aboard Royal Princess and enjoy discovering where their photos are displayed."
Contest judges included Caluori, Teresa Anderson, the line's vice president of interior design, and Ian Johnson, director of photography and video for Princess.
The 3,600-passenger Royal Princess is a new-generation ship currently under construction for Princess Cruises.
Source: Princess Cruises
Subscribe to our Cruise News Updates.