Princess Cruises has made their first donation from the Princess Animal Welfare Sponsor (PAWS) to the Alaska Wildlife Conservation Center.  PAWS was established by the cruise line to donation a portion of proceeds from sales of Stanley the Bear, their newly introduced plush bear available for sale onboard, to local causes and charities that support nature, animals, and wildlife.
The conservation center plans to use the donation to fund enhanced bear viewing and sitting areas on the property, as well as a new family interactive space.  They will also be providing Princess Cruises bear-related items, such as bear paw prints to be used in Princess' Camp Discovery youth centers.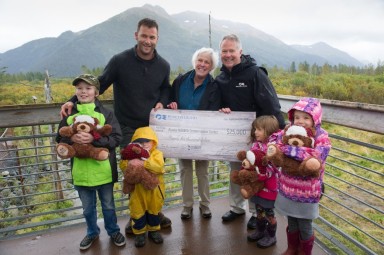 "We're honored to be the first recipient of $25,000 from the Princess Animal Welfare Sponsor and applaud the cruise line for supporting our sanctuary, dedicated to preserving Alaska's wildlife through conservation, research, education, and quality animal care," said Karen Coward, AWCC board member.
Named in a Facebook contest with nearly 9,000 entries, Stanley was chosen in honor of the founder of Princess Cruises, Stanley B. McDonald.  He debuted in May 2017 for the Alaska cruise season, and interacts with guests through various entertainment opportunities and activities.  He is available for purchase onboard, and in the Princess Wilderness Lodges in Alaska for $24,95.  Princess Cruises donates a portion of the proceeds from the sale of the bear to support PAWS – an allocated fund within Princess Cruises Community Foundation.