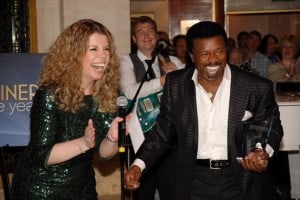 Passengers aboard Crown Princess have voted, and have picked Tony Tillman as Princess Cruises Entertainer of the Year. Four finalists performed and passengers cast their ballots onboard.
Tillman is a singer and dynamic entertainer often compared to Sammy Davis, Jr. or Ben Vereen. A star of "The Rat Pack is Back" tribute show in Las Vegas, Tillman's fast-paced and energetic style endeared him to the Crown Princess audiences.
"Congratulations to Tony Tillman for being chosen as our second annual Entertainer of the Year," said Martin Hall, vice president of entertainment. "All of the talented finalists thoroughly entertained Crown Princess passengers, and they each represented the caliber of guest performers on Princess ships."
Passengers aboard the February 9-16, 2013 Crown Princess sailing saw live performances from each finalist – along with Tillman the finalists included comedy and dance duo Alfredo and Seymour, comedian Sarge, and mentalist Wayne Hoffman – and their vote chose the winner. Tillman was announced as the winner on the final night of the cruise at a celebratory event in Princess' signature venue, The Piazza.
As the winner, Tillman receives a cash prize of $5,000 and now holds the title of the line's "2012 Entertainer of the Year."
Source: Princess Cruises
Subscribe to our Cruise News Updates.
Related articles