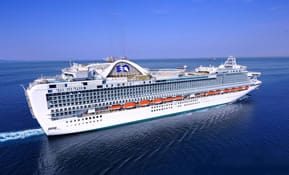 SANTA CLARITA, Calif. (December 1, 2011) – For the fifth year in a row, Princess Cruises ships are expecting snow flurries to set the stage for a festive holiday season at sea. No matter where they are sailing, passengers won't miss out on a white Christmas as snow magically falls in the ships' multi-story atriums, transforming them into winter wonderlands.
The innovative snow-making process creates falling flakes that vanish on contact, letting cruise passengers enjoy the excitement of snow without the need to bundle up. Princess' daily snowfall will occur on all ships except for the lines' two small vessels – Pacific Princess and Ocean Princess – which do not have large atriums.
The shipboard snowfall is one of many ways Princess ships will surround passengers with a merry atmosphere. With the halls decked out in holiday décor – including a Christmas tree on the mast – and strolling carolers filling the air with the sounds of the season, Princess ships will offer a festive cruise experience from bow to stern.
The Christmas spirit will be found in activities throughout the ship. Passengers can challenge themselves with a gingerbread house-building competition to see who can construct the most creative structure. Or they can express their creativity with holiday card making, enjoy the entertaining cheer of a Christmas variety show, and even pick up tips at a turkey-carving demonstration to prepare themselves to do the honors at their next holiday feast.
Passengers can join in the sounds of the season by participating in a special holiday-themed Pop Choir, and the ships' Piazzas will feature seasonal entertainment. Movies Under the Stars screens will show favorite holiday films, as well as a virtual Yule log that will turn the giant screens into the "world's largest holiday fireplace." Stateroom televisions will also add the traditional burning Yule log broadcast for a warm and cozy touch inside the room. And of course Santa is expected to make a visit, with passengers receiving their own stocking on Christmas Eve.
Religious services will be held as well, and passengers can participate in Catholic mass or a non-denominational church service performed by onboard clergy.
"The festive atmosphere onboard makes the holidays one our passengers' favorite times to cruise," said Jan Swartz, Princess executive vice president. "Our welcoming crew members take the worry out of all holiday preparations, and what better way to celebrate than with a winter snowfall – even on a tropical cruise vacation." Swartz added that space is still available on select holiday sailings.
Holiday Feasts – Each Princess ship's culinary team will delight the senses with spectacular holiday displays and will serve up several delicious feasts. Christmas dinner features traditional holiday fare including slow-roasted Vermont turkey with chestnut stuffing and cranberry chutney. Special desserts include English Christmas pudding and gingerbread soufflé, while freshly prepared stollen and Christmas cookies also make an appearance. Passengers can also try a taste of traditional holiday dishes from around the world as the Horizon Court serves up some favorites based on the cuisines of crew members' home countries.
Christmas For Children – Younger cruisers can anticipate the big day with a full schedule of holiday activities. The youth centers will host holiday parties for each age group, and kids can make decorations to display on the center's Christmas tree, or can try their hand at cookie decorating. Youngsters can get creative with other holiday-themed arts and crafts projects throughout the cruise, and they will have an opportunity to sing Christmas carols for passengers. Naturally, Santa Claus makes an appearance with his sack full of toys, and, in what has become a holiday tradition, a senior officer will read "The Night Before Christmas" on Christmas Eve.
For parents who want to stay up later to celebrate the holidays, free late-night group kid-sitting sessions will be available on Christmas Eve, Christmas Day and New Year's Eve.
Hanukkah – From December 20-28 passengers can celebrate the Festival of Lights onboard with special Hanukkah activities. Ships will organize services, and passengers will find menorahs and fresh flower arrangements in blue, silver and white on display. Kosher meals are available upon request, and kid's centers will host activities for young cruisers, including a reading of "Sammy Spider's First Hanukkah."
Happy New Year – Passengers will count down to a fun-filled 2012 with festive New Year's Eve parties, complete with music, confetti, noise-makers and a balloon drop to ring in the new year. Earlier in the evening, the dinner menu will feature special treats just for New Year's Eve. On New Year's Day, football fans can follow the action of the day's traditional college bowl games, as the telecasts will be shown (as available by satellite) on the giant Movies Under the Stars screens or in shipboard lounges.
Holiday Shopping – Passengers who love to shop will not miss out on the holiday sales just because they're at sea. Princess will provide a wide array of holiday shopping and gift-giving opportunities on board including tax- and duty-free fine jewelry, watches, fragrance, cosmetics and fine art. New this year on the days after Christmas and New Year's, the Princess boutiques will open early in the morning to offer shoppers "door-busters" and other holiday discounts and specials.
Source: Princess Cruises