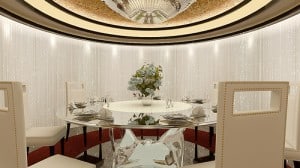 This week in Miami Beach, Princess Cruises announced more details about their upcoming ship Royal Princess.
Among the new options are several distinct dining spaces, including a Chef's Table Lumiere, and expanded Horizon Buffet area with larger selections of pastries, and new bistro options such as a crab shack and fondue restaurant. You can see depictions of the public areas on the Cruise Radio Facebook page.
Along with the new reveals will be the options that Princess Cruises is famous for with some new additions:
Wine Cellar
Chef's Table Lumiere
Horizon Court Buffet
Horizon Bistro
Horizon Bistro Pastry Ship
Horizon Court for Kids
Crown Grill and Wheelhouse Bar
Sabatini's, Italian venue
"These evolutions of our dining program will offer some exciting new options, as well as showcase our signature features which have become passenger favorites," said Jan Swartz, executive vice president for Princess Cruises. "Royal Princess certainly will take our dining options to the next level."
The 3,600-passenger Royal Princess will depart on her inaugural sailing June 16, 2013.
Source: Princess Cruises
Subscribe to our Cruise News Updates.