Bear sightings are one of the most anticipated experiences for guests journeying to Alaska on a cruise.  For the upcoming summer season beginning on May 15, all Princess guests will meet a new bear mascot onboard named Stanley.
Named in a Facebook contest, Stanley was chosen in honor of the founder of Princess Cruises, Stanley B. McDonald.  He will appear on all Alaska sailings and interact with guests through various activities and photo opportunities.  On formal night he will dress up in his Captain's uniform, and during the day wear themed apparel tied to the destination – such as a lumberjack outfit.  He will also hold story time hours for kids in the youth clubs.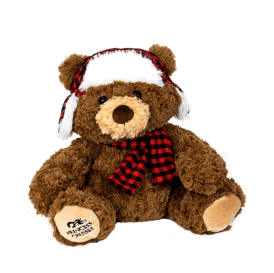 As Stanley falls in love with cruising, he will skip winter hibernation and become a stowaway aboard Princess ships.  He's appear on the new Majestic Princess just in time for the inauguration in Shanghai.  From there, he'll embark on adventures in Europe, Asia, and Australia.
The lovable bear will pack appropriately for each destination, too.  For example, in China Stanley will be adorned in a traditional Tang suit and cap, and in Japan he'll debut a Yukata outfit. Onboard, guests will participate in a daily "Where on the ship is Stanley?" contest, and he'll also be a special guest in the Welcome Aboard shows.
Souvenir plush Stanley bears will be available to buy onboard for $25.  Princess Cruises will donate a portion of the proceeds to support PAWS: Princess Animal Welfare Sponsor.  Guests can share their travel adventures with Stanley using the hashtag #StanleyAtSea.