Princess Cruises has debuted a new interactive mobile experience that can only be compared to the likes of the matchmaking app Tinder.  But before you get scared off, read on.  Instead of matching you up with potential dating material, the interactive website will match you up with a vacation perfectly suited to your tastes and desires.  It is the first of its kind in the cruising industry.
The website is called "Places to Sea," and was designed for iOS and Android smartphones.  Users are shown a series of travel-related pictures and they can swipe right to "like" it, or "left" to pass on it.  The images include everything from food, to destinations, to shore excursions.  Once the user has swiped through all of the images, the interface identifies their preferences and assigns of five "travel personalities," including adventurer, naturalist, and more.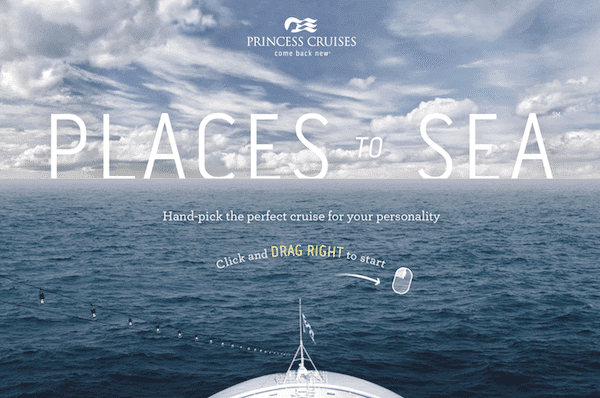 The cruise line developed the app-like website so that travelers might have an easier time choosing a cruise to take.  Gordon Ho, the line's senior VP of global marketing, said "For many travelers who are researching cruises, it's easy to get overwhelmed with so many options and choices – and our new Places to Sea experience guides the process and matches the ideal trip with a person's personality."
Family and friends can share their results with each other to figure out which cruise destination best fits the group.  The fun travel matchmaker fits in perfectly with Princess' Come Back New campaign, where the goal is providing travelers with a relaxing, rejuvenating cruising experience.