Today Princess Cruises announced new additions to their Chocolate Journeys collection of sweet treats with master chocolatier Norman Love.  They also reported on the results from the second annual chocolate survey which measured how Americans are feeling about their chocolate these days, and it certainly had some interesting results.
New Chocolate Journeys Sweets
Norman Love's rich, sweet chocolate confections have been recognized by multiple magazines and media outlets, and he's designed some of the most decadent treats in partnership with Princess for their Chocolate Journeys program, which is available fleetwide.  He was trained in France and the former pastry chef for Ritz-Carlton, and brings exactly what chocolate-loving guests want aboard Princess.
The new Chocolate Journeys offerings will be rolling out beginning early next year, and include:
International Café Treats – every day in the International Café, a chocolate sweet will be featured, from caramel and chocolate flan, to milk chocolate mousse, to peanut butter chocolate tarts and milk chocolate Chantilly éclairs.
Afternoon Tea – Guests will be treated to delicious chocolate bites paired with a selection of teas and other traditional afternoon tea fare during the line's popular tea.
Horizon Court Breakfast Items – Throughout the sailing, breakfast items featuring touches of chocolate will be offered, including Danishes, chocolate muffins, Bretons, and puff pastries.
Horizon Court Evening Treats – Each evening, a new chocolate cake will be served so guests can try a new flavor each day.
Chocolate Soufflé – On select evenings during the cruise, the main dining room dessert menu will feature a new signature chocolate soufflé.
Chocolate Cookie – During Movies Under the Stars as well as in the International Café, and other places, there will be premium chocolate journeys cookies available to enjoy.
Chocolate Survey Results
The chocolate survey by Wakefield Research once again confirmed that chocolate continues to make people happy and satisfied. This year's results include: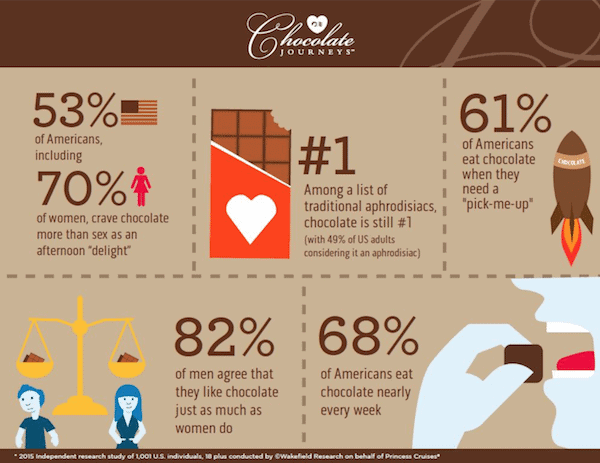 Photos courtesy of Princess Cruises.