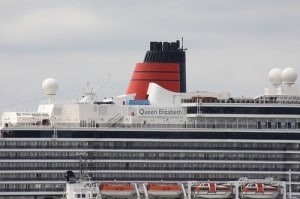 The 2,092-passenger Queen Elizabeth made her inaugural call into the port of Boston yesterday, docking at the Black Falcon cruise terminal. As standard for any vessel calling into port for the first time, a plaque ceremony took place commemorating the maiden call.
According to the Boston Globe, "The cruise industry today brings to Massachusetts more than 330,000 visitors annually, including passengers and crew, who spend nearly $26 million in local restaurants, shops, and other tourist attractions, according to the Cruise Lines International Association. The cruise industry pumps even more money into the state: Last year, direct spending on ships' provisions, labor, and other items totaled $492 million in Massachusetts."
The Queen Elizabeth will head back to Southampton, England where she'll embark on a Holy Land cruise, Canary Islands adventure, and a Caribbean odyssey voyage.
Photo credit: flickr/aviationphotos