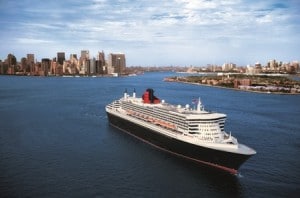 Cunard Line's flagship Queen Mary 2 will mark a major milestone on her 6 July 2013 voyage from New York to Southampton, achieving her 200th Transatlantic Crossing in her ninth season since entering service in 2004.  The milestone will be commemorated with various activities and special speakers and performers on board to add to the celebratory mood.
As part of the Cunard Insights on board enrichment program, Stephen Payne OBE, who was largely responsible for the overall design of Queen Mary 2, will present a fascinating perspective on her construction.  Stephen also will be the guest of honor at an evening gala on board, which will include a commemorative dinner with a special menu.  In addition, BBC newsreader and Classic FM presenter Nick Owen will lecture on board.
Also adding to the festivities will be 16 musicians, plus a band leader and vocalist, from the world-renowned Juilliard School of Dance, Drama and Music.  The group will perform as a jazz orchestra providing a selection of Big Band, Swing and Glenn Miller style music and smaller ensemble pieces.  Other Juilliard performances will include an evening event in the Royal Court Theatre with full orchestra and vocalist, an afternoon tea dance, lunch time jam sessions featuring an ensemble in the Chart Room, and a late evening ensemble in Illuminations. The band leader and members of the orchestra will also give two jazz master class lectures and a live Q&A.
Queen Mary 2 is still the largest, longest, tallest, widest and most expensive ocean liner ever built.  She is also the fastest passenger ship in the world.
Source: Cunard
Subscribe to our Cruise Updates.
Related articles