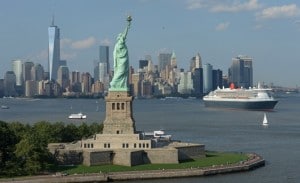 Cunard Line's flagship Queen Mary 2 is making her historic 200th Transatlantic Crossing, having sailed from New York on Saturday 6 July en route to her homeport of Southampton, England, arriving 13 July.
To mark the beginning of the historic voyage from New York, Queen Mary 2 performed a sail-by of the world's most iconic statue atop Liberty Island.  On board are keynote speakers presenting talks about the ship's design, as well as special Big Band performances, and a celebratory Gala Dinner to be held on 11 July.
Queen Mary 2 is the largest, longest, tallest, widest and most expensive liner ever built.  Today, she is the only ocean liner in service and is the fastest passenger ship in the world.  Since entering service in 2004, she has cemented her place in maritime history as the most famous passenger ship afloat today.
In the course of Queen Mary 2's 200 Transatlantic Crossings, Cunard Line estimates that a half-million passengers have consumed 8.4 million cups of tea; 980,000 scones; 481,000 bottles of champagne; 644,000 eggs; and 253,605 gallons of milk.  In total, 22.4 million meals have been served over 600,000 nautical miles, excluding the ship's annual World Cruise and sailings to the Canaries, Fjords, Iceland, the Low Countries, around Britain, up to Montreal and Québec in Canada, and among the Caribbean islands.

Also noteworthy, over the course of Queen Mary's 200 Transatlantic Crossings, more than 1,000 dogs have been pampered in the only kennel facilities aboard a passenger ship.
Source: Cunard
Subscribe to our Cruise Updates.
Related articles