Cunard is launching a new restaurant, the Verandah, aboard it's flagship cruise vessel Queen Mary 2, to open in June after a big refit.  Opening day will be exactly 80 years after the first Cunard Verandah Grill went to sea aboard Queen Mary in 1936.
Replacing the Todd English restaurant, the Verandah will be French cuisine reflecting on each season of the year.  The Verandah already has a good track record, too, as it's a crowd favorite aboard the Queen Elizabeth and Queen Victoria.  It will feature elegant, airy dining rooms with service focused on attention to detail and attentiveness.  A bar will be available for pre or post-meal drinks.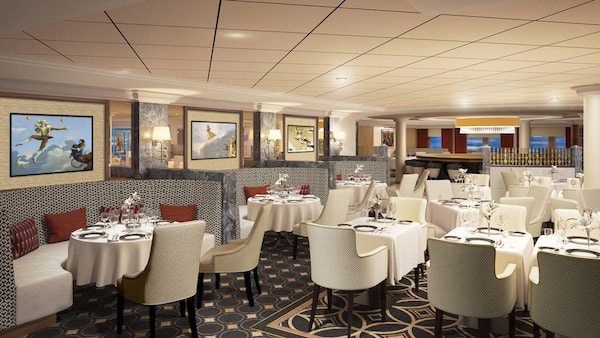 Originally, the Verandah Grills were exclusive dining rooms for First Class guests and were considered the most exclusive at sea.  They were influenced and on par with esteemed private clubs in New York, London, and Paris.  They offered privacy for the rich and famous, including visitors such as Fred Astaire, Winston Churchill, Marlene Dietrich, Charlie Chaplin, Elizabeth Taylor, and Greta Garbo.
Meals at the Verandah will be available at a surcharge for both lunch and dinner.  For more information, visit cunard.com.
Renderings courtesy of Cunard