Cunard announced today its plans to revamp the Kings Court buffet aboard Queen Mary 2.  During the ship's extensive refit from May 27 – June 1 of next year, the relaxed buffet will transformed with a more open buffet area and reconfigured seating areas.
Over the past year and a half, designers along with the ship's galley teams have undertaken the task of redefining the space not only for the guest's ease of use and comfort, but for the chefs and other buffet crew as well.  The refreshed Kings Court will feature new menus, waiter-served drinks, and pre-set tables.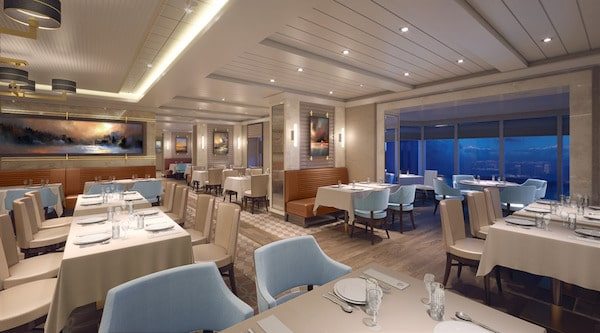 Queen Mary 2 chefs will have open areas where they can do cooking demonstrations for the guests, highlighting the new menu.  The buffet will feature cold and hot options, light snacks, and alternate evening dining options like Italian, Pan Asian, Indian, and Tex Mex.  The Chef's Galley area, serving pastas and pizzas at lunchtime, will also offer a Chef's Table tasting menu on select evenings.
The redesigned Kings Court will feature Art Deco chandeliers, warm colors, mirrors to accentuate the ocean view, and fresh finishes.
Renderings courtesy of Cunard.