Congrats. If you're at this point in planning, you've definitely decided to cruise Europe and  you've figured out some key things like budget, cruise ship, and ports.
Now we're ready to plan the getting there part of the trip. You know, the plane tickets, the public transportation, and getting to the cruise ship itself.
The biggest overall expense besides the cruise itself is the airfare. It's also overwhelming and stressful to plan. There's so much to consider – it makes my head spin just thinking about it.
As we dive into the planning, remember there's no wrong answer or wrong choice. It's a vacation. No matter how much hard work you do, something's probably not going to go exactly as your planned. That's part of the adventure though and definitely part of the stories you'll tell years later. You learn from it too and it's makes your next vacation plan even stronger.
Airfare
Let's talk airfare first. Here are some tips to help you get some sweet savings.
Know your price range and be ok with it
Be prepared to pay the higher end of your budget if you need to. We all want to find that amazing steal of a price, but that's not realistic with European flights. There's a reason why airfare's a good amount of your budget.
It pays to know the best days to both buy tickets and actually fly. Want the best price – plan on a Saturday night stay. It's an old rule, but it still holds true. It's usually cheaper to fly on Monday than Sunday from popular airports too. And buying a ticket – well Tuesday's generally the cheapest day to buy plane tickets.
Almost every single website or app lets you set email alerts for price changes and drops – let them do all the work for you. Be sure to check them often though.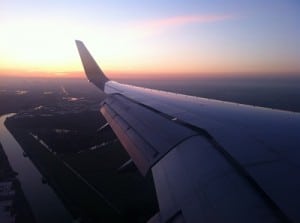 Europe's got something the US doesn't when it comes to airfare. Euro Rail and local European air carriers. Sarah shares, "When we booked our flights for the Carnival Magic, I started out looking for flights into Venice and out of Barcelona – the ship's route. After a while I got discouraged as the prices went up. A friend recommended I check out Ryan Air, a local European airline that's dirt cheap. It ended up being cheaper to fly roundtrip to Barcelona, stay overnight and then take a local Ryan Air flight to Venice to catch our cruise."
You can fly into pretty much any major European city and take the local transportation to your port. Want to see Paris? Fly there and take the train to Venice. Want a real German beer? Fly into Munich first. Then take the train, plane or car down to Italy to catch your cruise. You really have more options than you think – so use your imagination.
Clear the cookies on your browser
Seems a little weird in a travel article, huh? Well, travel sites keep track of how many times you've looked, the dates and destinations. Before you visit the site again, take a few minutes to clear your cookies and browsing history and you just might see better prices.
Be ready and prepared to book at a moment's notice
This is super important when you're traveling with a group of people.  Sarah shared this: "We were trying to buy tickets to Venice and from Barcelona. I'd been looking and prices were hovering around $800, a bit more than we wanted to pay.  As I was doing my daily search for flight prices, I found an awesome deal for $500 round-trip!  I was stoked and couldn't wait to book it – but I couldn't get a hold of all the people in my travel party. Because I couldn't get everyone to agree, we lost that price – it went back up to $800. Lesson learned – be ready to buy tickets when you find a great price! Get everyone to agree on it ahead of time. And get their credit card numbers too!"
Think outside the box on this one too. Think you can only use airline miles for flights? Nope, you can book rental cars and hotels with them too. And sometimes that frees up your budget for the big ticket items like airfare.
There are so many resources and sites out there. Here are some of the best ones I've found:
Kayak.com
Cheaptickets.com
Hipmunk.com
Skyscanner.com
Seatguru.com (it tells you which seat it best – totally important for these long flights)

Local Transportation
Once you get there, you've got to get around. Because you're seeing Europe via a cruise ship, your planning will be a little different when it comes to local transportation. Usually, your main goal is to get from the airport to your hotel or the cruise terminal and then getting around the towns you're staying in pre/post cruise.
This is an area where both Sarah and I don't have as much experience. She loves taking the subway (she's scarily good at navigating them) but doesn't have much other local transportation experience. She also mentions driving in Europe isn't for the faint of heart; she likes to hire a local driver so she can have one on her side. To help you and me plan, she recommended her favorite Europe planning resource, Rick Steves at www.ricksteves.com.  Here are the most applicable suggestions we have for you:
Taxis
Be on guard at airports and train stations
Unfortunately, they're looking for tourists. Go to the official taxi stand if you're taking a taxi.
Plan ahead on how to get to your hotel or cruise terminal
This isn't the US. You're not going to be able to just whip out your iPhone and Google airport shuttle or taxi. You have to have a plan for leaving the airport.
Negotiate a price before you get in
This is pretty true in the Caribbean too. Don't just get in a taxi and go. Know what you're paying up front.
Public Transportation and Rental Cars
Sarah likes to take a picture of the subway maps with her digital camera. Then she can use it for reference and zoom when she needs to see the exact exit. You can also print a copy of the map before you leave the US.

If you want a rental car in Europe, you'll pay extra for automatic transmission. Plan accordingly.
Have a large group? You might find it cheaper to rent a car than buy 6 train passes. Have a lot of luggage? Another consideration. Rental cars can be a challenge in Europe, so you'll need to consider that too. And parking's not anywhere close to cheap.
The European Cruise Series:
Got any questions or feedback for us? We'd love to hear from you. Shoot us an email at [email protected].
Pin this!