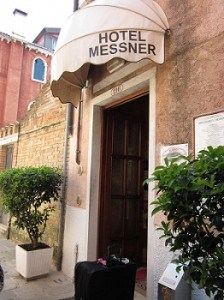 So far we've covered how to plan your dream cruise vacation, how to get there and how to get around. Now we're going to cover actually being there – hotels and shore excursions. This week, we'll focus on hotels and next week, we've all your Shore Excursion FYI.
When it comes to hotels, you do have a ton of options – even in Europe. Choosing one goes back to one of the very first things we told you – you need to ask yourself what's most important to you.
Are you looking to stay in the middle of all the action? Do you want breakfast included? Will you need transportation from the airport? Will you need transportation to/from the cruise terminal? Do you want to stay close to the airport?  Do you want a bathroom in your room – yes I'm serious about this one when it comes to booking hotels in Europe (you'll see!).
Once you've answered those questions, you're ready to start booking your hotel rooms.
In the US, when it comes to booking hotels pre and post cruise I always rely on apps. There are a couple good ones that have never steered me wrong – Hotel Tonight and Just Book. Both give great last minute deals. Expedia and Kayak are great resources too. When I use Priceline or Hotwire, I always use betterbidding.com, a great site that reveals what hotels are being offered on Hotwire or Priceline.
Europe's a little different and you're gonna have to do some pre-planning. Last minute doesn't work as well across the pond. But don't worry, we've got some great apps and websites listed below to help with the planning.
Here's what Sarah had to say about booking hotels in Barcelona and Venice for her Carnival Magic Mediterranean cruise: I truly had no clue where to start or where to stay. I'd never been to Venice or Barcelona before. Price was really important to us, but so was location to the airport and cruise terminal.  I started by googling some basic info about both cities to get an idea of what the 'big' attractions were. Then I went to booking.com.
At booking.com, you can book hotels and then cancel with no fee within 24 hours of your stay. Because we were traveling in a larger group, I wanted everyone to have some input on where we were staying.  I booked about 3 hotels in Venice and 3 in Barcelona. We all met and decided to stay close to the action in Barcelona – we found an amazing hotel that was cheap and luxurious right next to La Sagrada Familia. In Venice, we opted for a hotel close to the vaporetto for ease of travel to the cruise terminal.  Once we decided, I canceled the extra reservations and we were all set. 
What I did learn once we stayed there – in Barcelona, I would have booked a hotel super close to the airport or with a free shuttle and then taken public transportation to see the city – they've got a great subway.  In Venice, it's good to stay near a Vaporetto stop. You'll pay a fortune to stay on the Grand Canal when the city has tons of smaller canals that offer great views and hotels for less money. Though Venice is pretty pricey either way (it's totally worth it!!)
I'm budget conscious when I travel, so I usually look at the star ratings of hotels when I'm browsing on the internet. Often the higher the star count, the higher the hidden costs like parking, internet, etc. that can really add up and increase your cost. I also visit the hotel's site to get more details (sometimes Kayak, Expedia, etc. don't have all the details).  Part of looking at budget is seeing what the hotel offers – I'll sometimes pay more if airport shuttles are included or I get a free breakfast. Often if you're willing to do some walking or use public transportation, you can get some great savings.
When I'm booking hotels, the first thing I do is check how far the hotel is from the airport and cruise pier. I usually try to find a hotel with shuttle service from the airport and an option to the cruise pier or at least a driver that works for the hotel to take me to the pier.
Your hotel decisions will all be based on what you've decided you want out of the trip and again, what's important to you.
Here are a few tips Sarah learned during her experience:
Make sure the room you're booking has a bathroom in it. It isn't uncommon to have shared bathrooms in Europe.
Don't expect an American hotel room in Europe (unless you're staying at an American chain). It's going to be a different kind of experience and that's part of the fun in traveling.
Rooms for more than 2 people can be harder to find in Europe (something I found when trying to find rooms for 4 people).
Think outside the box – be willing to try new things and new places to stay.
Resources
Smartphone Apps
Websites (and Smartphone Apps)
Next week, we'll cover Excursions and how to see all these amazing ports have to offer you. All in the name of helping you cruise Europe!
Got any questions or feedback for us? We'd love to hear from you. Shoot us an email at [email protected].
Subscribe to our Cruise News Updates.
Pin this!