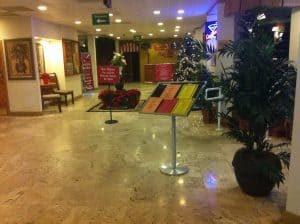 Before we sail we like to do a hotel review of different port hotels in the cruise port area. This time we stayed at Ramada Inn Airport/Cruise Port. Hotels like this really impress me because they offer cruise parking (nominal fee), free shuttle to and from the port, free breakfast, free wifi, tiki bar, a couple dining venues on site and a tropical pool area.
Check in to the hotel was flawless and they let me check in a little early. I always like to stay on the first floor when I travel because I'm not a big fan of hauling my bags and gear up elevators and stairs. They accommodated me. You also schedule your port transfers when you check-in and they give you a parking pass. If you're flying in, you call the front desk when you get your bags and they will pick you up.
The hotel wasn't built yesterday but still had nice rooms with the amenities like an iron (perfect for pressing my clothes before the cruise). I was traveling alone so I had a king bed with a work area. The internet in the room is free and secure so you have to get a code from the front desk.
You get a complimentary continental breakfast served in their main dining room and for $5 more can get you the hot breakfast bar (eggs, bacon, sausage, etc.). The dining was great and they seat you when you arrive.
The shuttle service was flawless. I took the 12:15 shuttle to the port and it departed right at 12:15 with my luggage in tow. There was a full shuttle but very efficient and dropped us off at the pier and even assisted with luggage to the porter. The distance from the hotel to Port Everglades is just a couple of miles.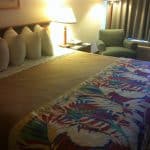 Upon return I called the hotel and told them what ship I was at and 15-minutes later the Ramada shuttle arrived and took us to the hotel.
Depending on the time of year, prices can be as low as $69 (park-n-cruise package, nominal fee).
All in all I would recommend this hotel to my friends, family, and listeners of Cruise Radio if you are flying or driving into Port Everglades for pre or post night cruise stay.
Get more information about the park-n-cruise package and property at their website www.RamadaInnAirport.com or book directly 954-584-4000
Source: Doug Parker/Cruise Radio