The last stop on our Norwegian Star cruise was Split, Croatia. The voyage began in Croatia and ended there, which I thought was fitting because I absolutely fell in love with what little I saw of the country. We chose another Cruising Excursions tour, called the Split & Trogir Tour.
I am so glad we picked this tour, because the little town of Trogir had my heart from the moment I stepped foot off the bus. It was about a 30-minute ride there, where our guide gave us some history of the area and pointed out things along the way. When we arrived in Trogir, we pulled in a bus station right in front of a little harbor and I knew immediately that I would love the charming town.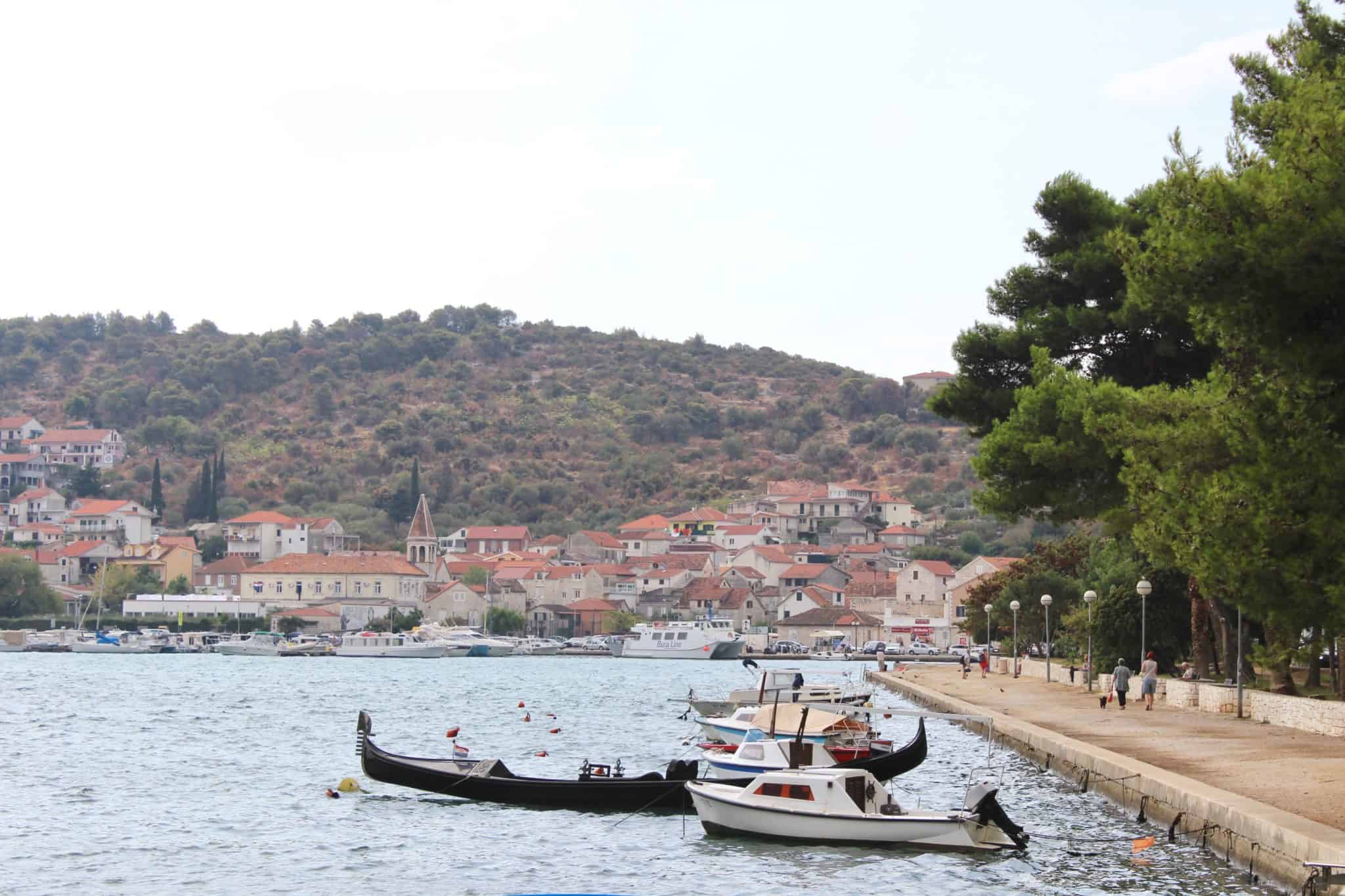 Our first stop was at the Roman Catholic Cathedral of St. Lawrence, otherwise known as the Trogir Cathedral which was finished in the 17th century. It was everything you'd imagine from an Old World European church – exquisite, detailed, and gorgeous with a story hidden in the carvings and artwork. In particular, the one that stuck with me is the doorway, where the carvings tell the story of Jesus' life.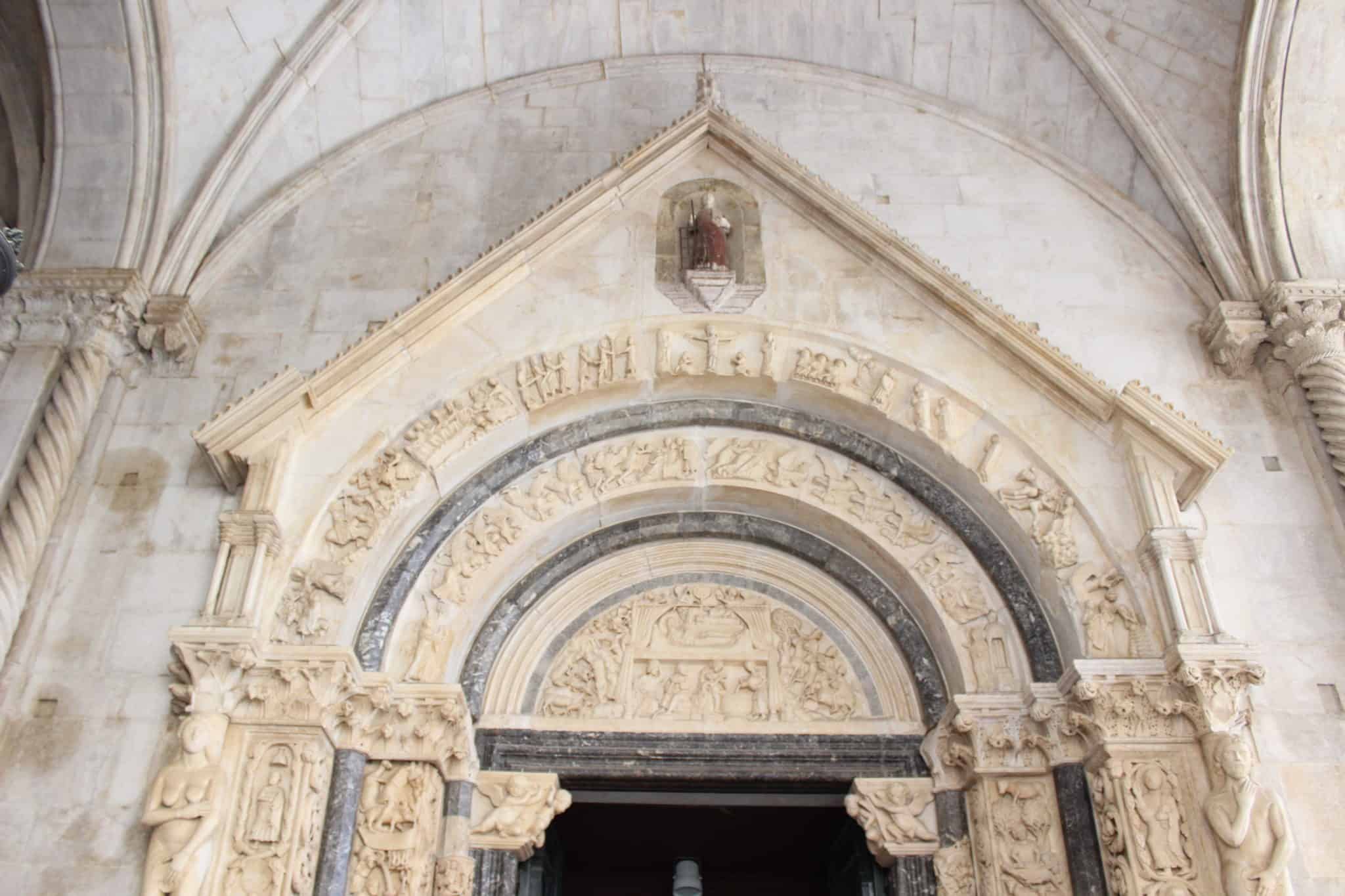 After that, we strolled through the town square and saw a monastery, as well as Cipko Palace. I cannot get over how these old European towns look and feel, it's truly like being in a different world in a lot of ways. We visited a number of them on this cruise, and each time I was still in awe that I was actually standing in such a beautiful, historic place. We wound around the small walking streets and happened upon some people selling various items basically outside their front door. It literally looked like a magazine with the bright colors, greenery, and old stone structure.
At the end of our time in Trogir, we had some time to explore the town and do whatever we wanted on our own. Doug and I found a little vintage wine bar and settled in for a glass. I tried Riesling because I am used to my own wine region's Riesling, and wanted to compare it to Croatia's. Theirs was crisp and refreshing just like what I'm used to, but wasn't as sweet which I actually enjoyed.
We also explored some shops and walked along the waterfront harbor, which houses some sailboats, larger tour boats, and other private vessels. Across from the water are lots of restaurants with plenty of outdoor seating, which is a perfect place to enjoy lunch on a sunny day. It was so perfect.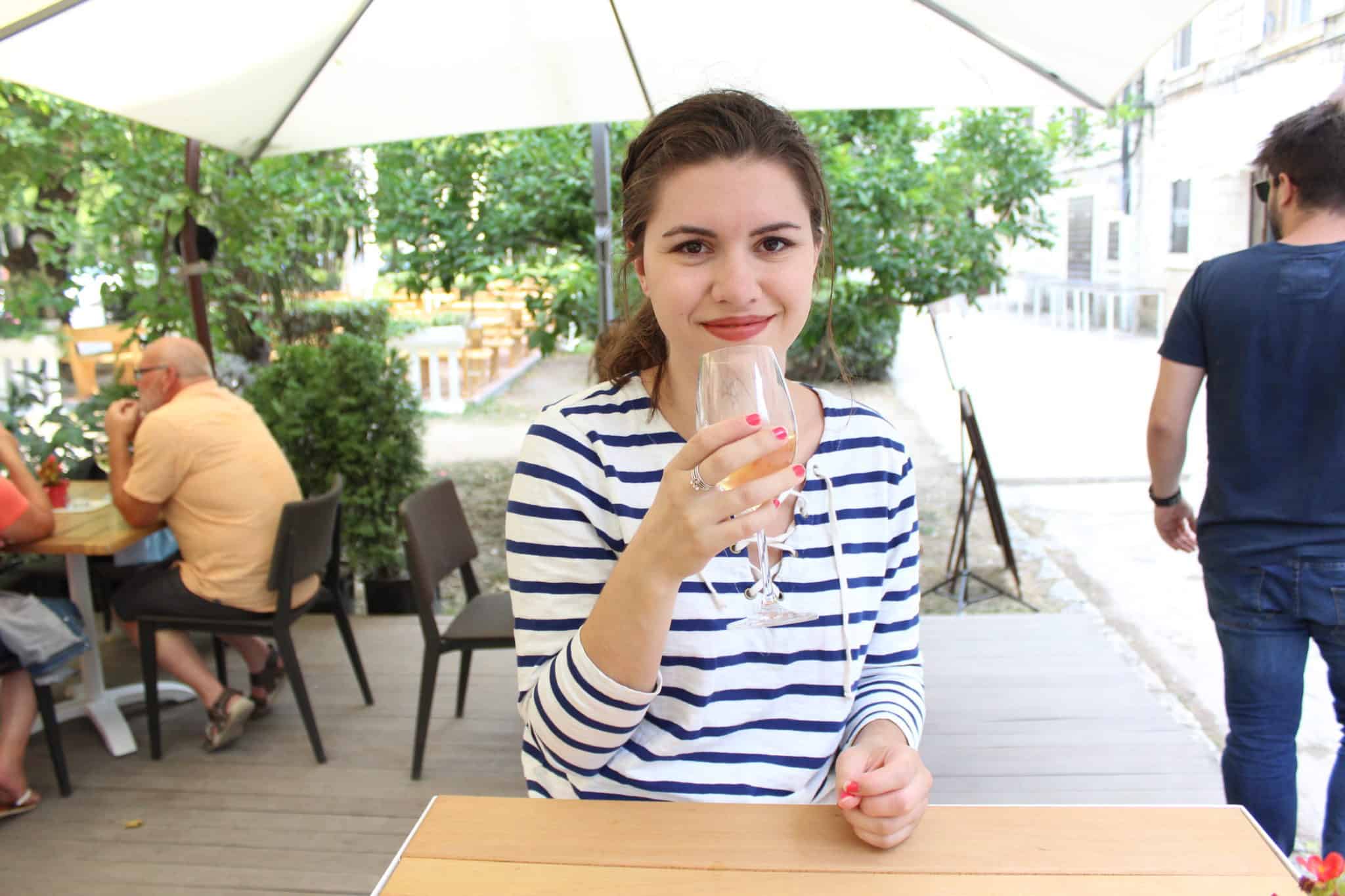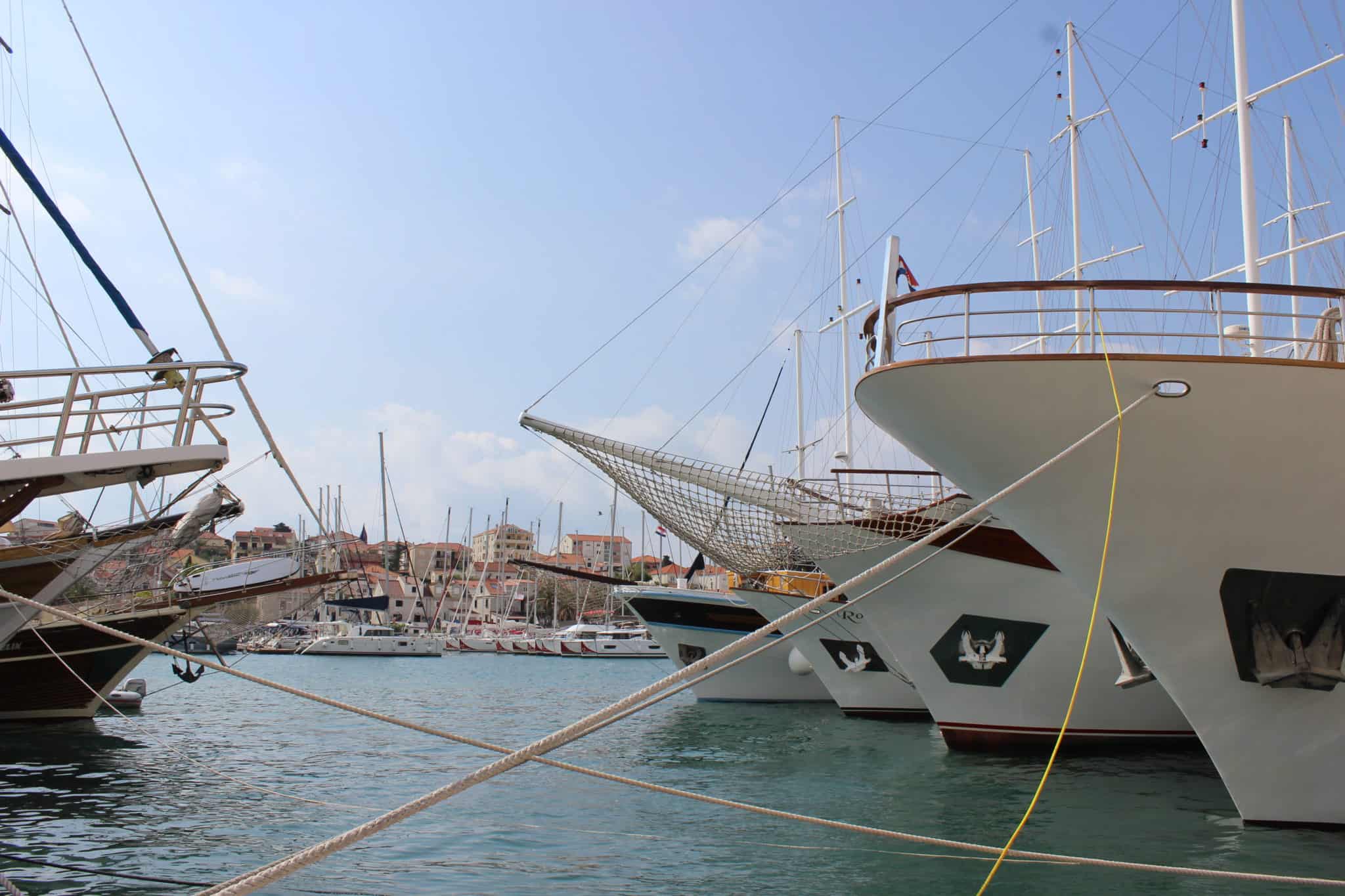 Back in Split, we headed to Diocletian's Palace, which is enormous and almost a city-within-a-city. It's not like a normal mansion-looking palace you would expect. It was built by the Roman Emperor Diocletian at the turn of the 4th century AD. Our guide walked us through, stopping along the way to tell us about different points of interest and give us some history that we wouldn't have easily gotten elsewhere during the tour.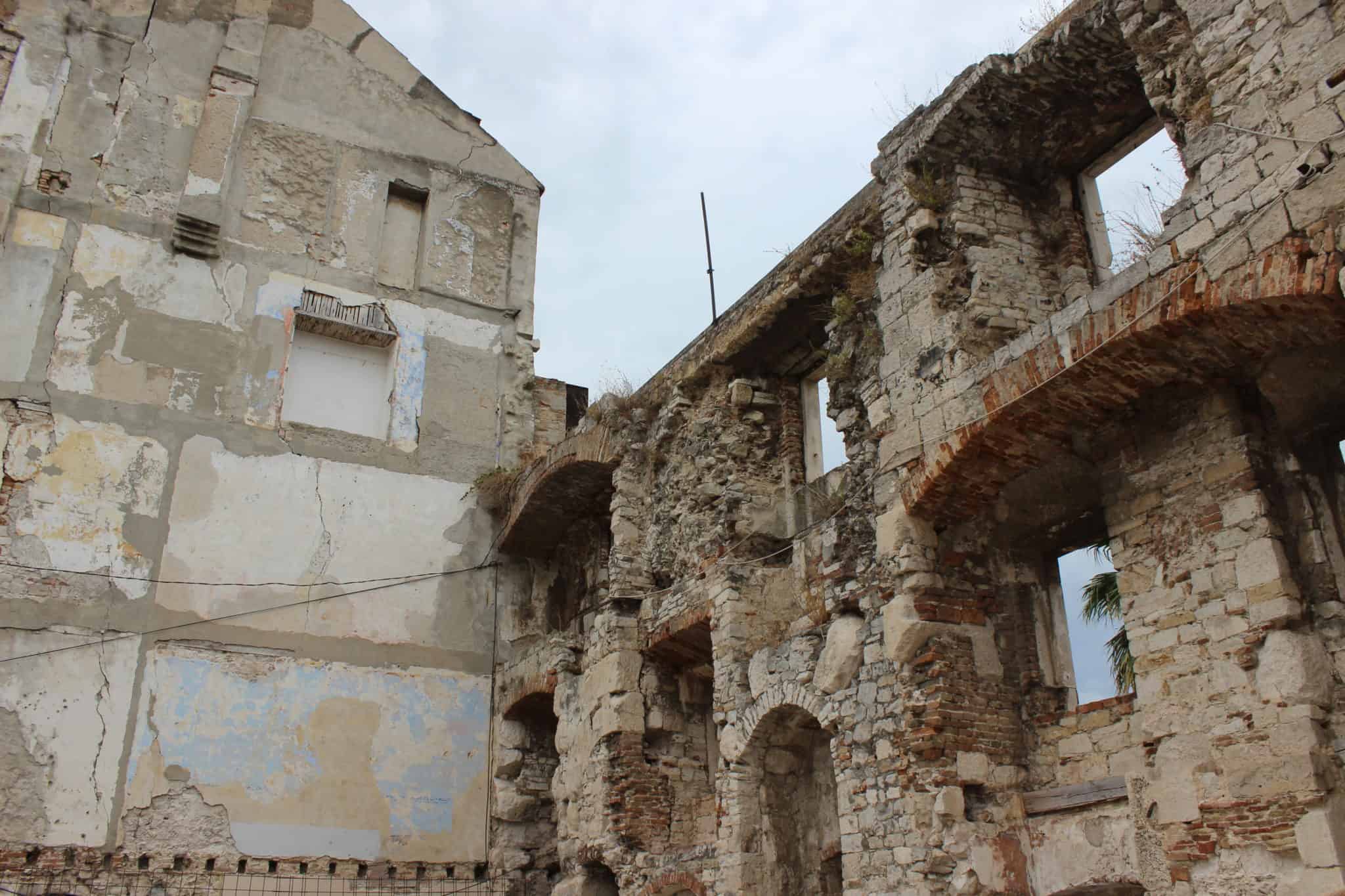 One thing in particular about Split that I will never forget is when we walked through the tall vestibule of the palace. There was a group of men singing a cappella, and they sounded absolutely amazing. The vestibule is basically a cylinder shape pointing up to the sky, and it's clear that they've chosen that spot because of the beautiful acoustics. A crowd gathered around and we were all entranced until they hit that last note. I can't speak for how often they are there, but I'd guess that it's just about every day during the busy tourist season – so if you're touring Diocletian's Palace, keep an ear out for them.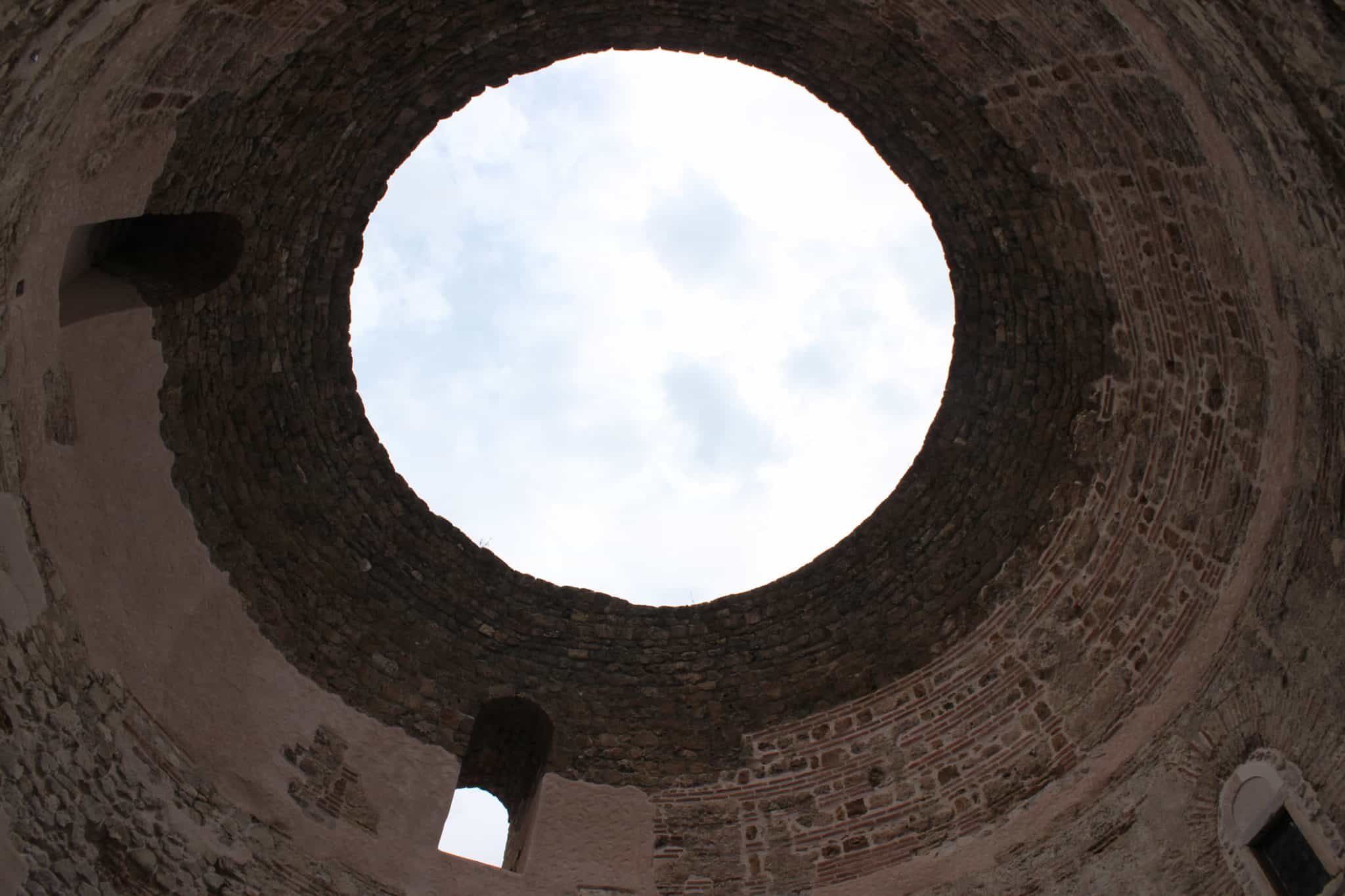 All in all, this was a fantastic excursion and Trogir is now one of my favorite places I have ever visited. If you're going on a cruise that stops in Split and you want to experience something a little bit down the road, I can't recommend this excursion enough. I would go back in a heartbeat.
I think in general, Croatia as a whole with both Split and our port day in Dubrovnik was my favorite country I visited on our seven-night voyage, aside from our time before and after the cruise in Venice, Italy which I would consider a tie. If you missed my Dubrovnik excursion review, you can check it out here.
For more information on this tour, click here.
We were given this excursion in exchange for an honest review. All opinions are my own. 
SaveSave
SaveSave
SaveSave
SaveSave