Generally, the common thought is that river cruising is more for the older generations and young travelers don't often even consider them when planning a vacation.  It seems, though, that the tide may be changing.
According to a new survey conducted by AAA, America's largest travel organization, 14 percent of Americans have gone on a river cruise, but about 4 in 10 would consider it for an upcoming vacation.  With this trend, AAA noted that their river cruise bookings have increased over 16 percent just in the last year.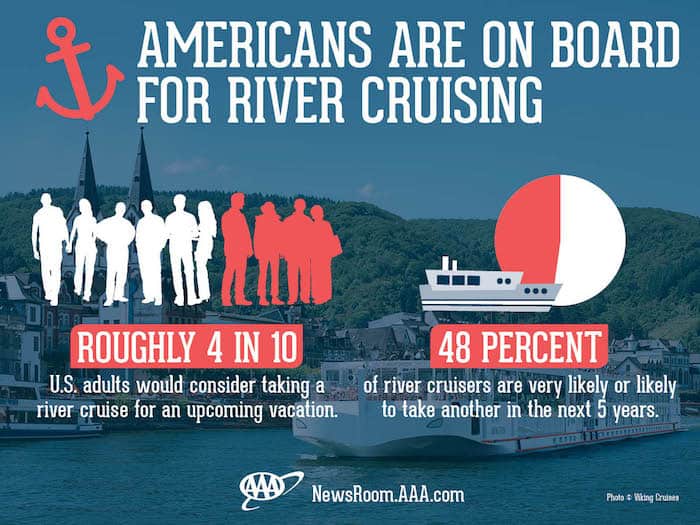 According to the survey, one in four Americans say they're likely to take a river cruise in the next five years.  And those who have already taken this type of vacation, tend to return; nearly half of past river cruisers say they're likely to go again in the near future.
Over half of the adults in the survey indicated that they feel the all-inclusive focus on the journey, instead of the destination, is the top benefit of river cruising.  Other benefits include being able to visit places where larger ships can't and the convenience of docking right in the heart of the city.
"River cruising offers travelers an unparalleled opportunity to explore the heart of multiple destinations in comfort and luxury," said Bryan Shilling, managing director of AAA Travel Products and Services. "It also provides an intimate view into the culture and history of some of the world's top destinations. Millennials tend to place great value on experiential travel opportunities and are looking to river cruising as an increasingly viable option for their future vacations."
Consider taking a river cruise for your next vacation – you may just find your new favorite way to travel!
Featured photo: AAA