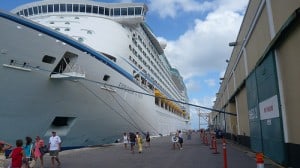 Royal Caribbean announced today that in 2013 Explorer of the Seas will continue to home-port in Cape Liberty cruise port in Bayonne, NJ.
Explorer of the Seas' summer and autumn 2013 line-up will feature 30 sailings to 17 ports of call on seven itineraries. Guest can sail to ports like Bermuda, Caribbean and Canada and New England from April through October 2013.
From April through August 2012, Explorer of the Seas will alternate five-night Bermuda and nine-night Bermuda & Caribbean itineraries. The five-night itinerary will feature an overnight at Kings Wharf, Bermuda, while the nine-night sailing calls at Kings Wharf; St. Maarten; San Juan, Puerto Rico; and Labadee. From September through October, vacationers can choose a seven-night Bermuda itinerary, which uniquely features three days and two nights at Kings Wharf to enjoy more of the 181-island nation.
Explorer of the Seas also will offer guests a special Canada and New England sailing to catch the arrival of autumn and the changing of the leaves. Departing August 31, guests will call at Boston, Mass.; Portland and Bar Harbor, Maine; Saint John, New Brunswick; and Halifax, Nova Scotia.
Explorer of the Seas ranks as one of the world's largest and most innovative cruise ships, featuring iconic Royal Caribbean onboard amenities such as an ice-skating rink, nine-hole mini-golf course, a rock-climbing wall, full-size basketball court and the Royal Promenade, a boulevard that runs nearly the length of the ship.
Source: Royal Caribbean
Subscribe to our Cruise News Updates.