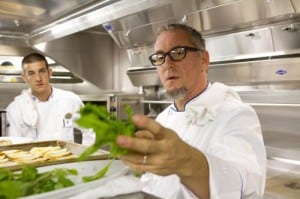 Royal Caribbean International announced their selection of James Beard Award-winning chef Michael Schwartz to create new menus for its upscale dining venue, 150 Central Park, on cruise ship Oasis of the Seas. Known for his commitment to sustainable and seasonal food sourcing at Miami's Michael's Genuine Food & Drink, Schwartz will offer his expertise as the cruise line selects and integrates local produce farmers into 150 Central Park's supply chain.         
"Royal Caribbean continually looks to deliver the Royal Advantage to its guests through diverse and innovative dining concepts and the freshest possible ingredients," said Frank Weber, vice president Food and Beverage, Royal Caribbean International.  "By joining forces with chef Michael Schwartz at Oasis of the Seas' 150 Central Park, we are gaining a respected hometown partner who will help us to navigate and embrace the local agricultural community by hand-picking the most appropriate local small farms to supply ingredients for our premiere dining venue."
First introduced on Oasis, 150 Central Park is the centerpiece of the lush Central Park neighborhood with its 12,000 plants and trees and its variety of specialty dining and retail venues such as the Coach store.
"I am thrilled for the opportunity to collaborate with such an acclaimed global brand as Royal Caribbean and to work with them to further the important sustainable philosophies I care so much about," says chef Michael Schwartz.  "It is so exciting for me to bring some of my favorite farmers' local products onboard for the first time, adding to the already impressive food and beverage offerings available to guests on Oasis of the Seas."
150 Central Park by Michael Schwartz on Oasis will launch October 29, 2011, with new pairs of menus rolling out every three months during the year-long collaboration.  
Source: Royal Caribbean