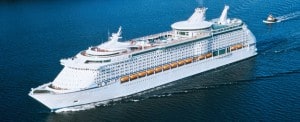 Royal Caribbean recently announced new Caribbean cruises for Explorer of the Seas from November 2014 through early January 2015.  Explorer of the Seas will redeploy to Port Canaveral, Fla., to offer a range of four- to nine-night Bahamas, and Western and Southern Caribbean vacations. Explorer will join Freedom of the Seas and Enchantment of the Seas.
Explorer of the Seas will sail four Western Caribbean cruises roundtrip from Port Canaveral through Jan. 4, 2015. On these five-night itineraries, guests call at Cozumel, Mexico, and Nassau, The Bahamas, or CocoCay and Cozumel. Vacationers also can choose two Southern Caribbean sailings on a nine-night itinerary that call at each of the ABC Islands and Labadee.
Additionally, a five-night Bahamas cruise, departing Dec. 13, 2014, will call at Nassau, Grand Bahamas Island and CocoCay.
Source: RCI
Subscribe to our Cruise Updates.
Related articles