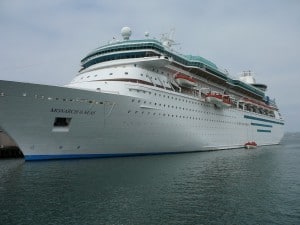 First reported by Cruise Critic and confirmed by the Center of Disease Control in Atlanta, Georgia, Royal Caribbean's Monarch of the Seas has failed their CDC health inspection on November 18, 2011, for the second time since the ships launch in 1991. The Monarch of the Seas failed their first CDC inspection September 21, 1996.
The CDC inspects cruise ships on a random basis and checks on a variety of areas including food, beverage, housekeeping, pools, and more.
The Monarch of the Seas failed in 43 areas during the ships inspection, including: live fruit flies in food prep areas, dead fruit flies, dirt over the beverage area, and "heavy old food debris present on the deckead over the entire buffet line," according to the CDC.
Travel agent Scott Lara, says, "As someone who has sailed on the Monarch of the Seas at least 5 times in the last 3 years, I am surprised she recently failed the CDC inspection. I have faith that Royal Caribbean is very upset over this and will rectify the situation. I will continue to sail on the Monarch and will encourage others to do so also."
Port Canaveral based Monarch of the Seas has filed for a re-inspection which hasn't been completed yet.
Cruise lines inspections are based on a 100% graded scale and the inspections themselves are paid by the cruise lines, based on the gross tonnage. A score of 85% or lower is not passing.
The line told Cruise Critic that they're "confident" that they'll pass during re-inspection.
Cruise ships that've made 100% marks in 2011 are: Norwegian Sky, Oasis of the Seas, Carnival Magic, and Holland America's ms. Eurodam.
Source: Center of Disease Control
Be sure to subscribe to our Daily Updates here.