Royal Caribbean has introduced a new way for adventure seekers to be a part of a live, interactive experience with the launch of Come Seek Live.  This latest activation of their "Come Seek" campaign enables explorers to interact in real time with guests aboard Anthem of the Seas through the social media app Periscope.  This new installment of the campaign will also be showcased on billboards on the streets of New York City.
Starting last Friday, followers from around the world are able to experience the adventures of Royal Caribbean adventurers via live-streaming of 13 live broadcasts from five islands over seven days.  Streaming begins at the Las Playas natural water slide in Puerto Rico and then move to playing with monkeys in Barbados and riding ATVs in St. Maarten.  There will even be refreshments made by a robot at the Bionic Bar back on the ship.  Periscope followers will be able to direct their next steps with the unfolding story, giving the streaming a personal, live touch.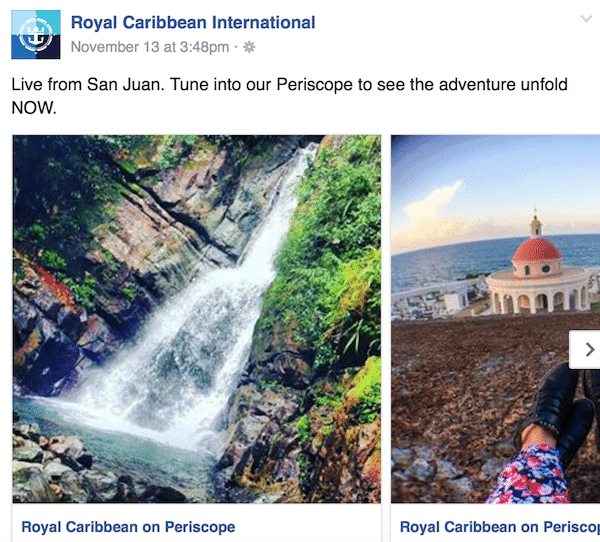 Come Seek Live is a neat way for Royal to challenge the stereotypes and myths that travelers have about the cruise industry.  They have developed the new, first-of-its-kind distribution platform using their VOOM wireless connectivity to beam the adventures to the streets of New York.  It will be streamed to subway displays and newsstand screens at locations around the city including Grand Central, Penn Station, Union Square, 86th and Lexington Ave, Fulton Center, and more.
To join in the Come Seek Live adventures, follow Royal Caribbean on Periscope at periscope.tv/royalcaribbean.