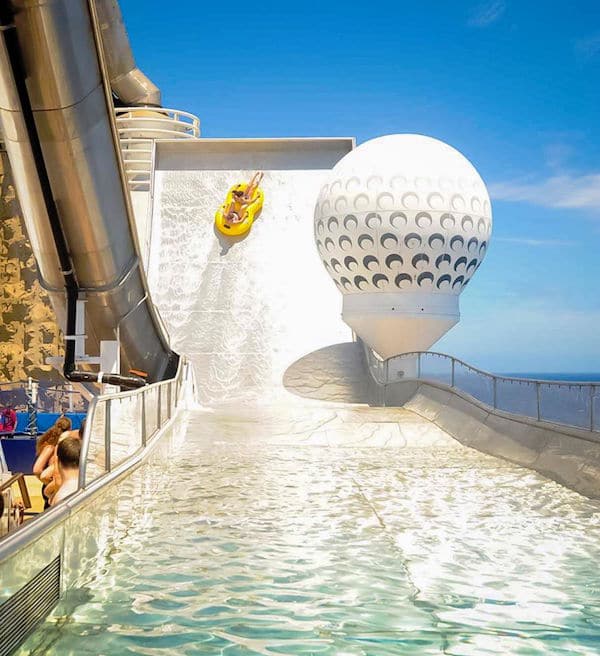 Generally speaking, whenever a cruise line launches something new or innovative, they make as big a splash as possible. After all, every line innovates in the hope of luring passengers eager to try the newest, biggest, brightest, highest, fastest, longest and/or hippest attraction at sea. Yet this week, Royal Caribbean's Liberty of the Seas opened Tidal Wave, their first-at-sea boomerang-style water slide, with almost no fanfare.
Why It Took So Long!
Although originally slated to open in January, the water feature – which sends tube-riding passengers down a steep drop before shooting them up a steep slope to experience a moment of near weightlessness – ever actually opened when a design flaw was discovered. The problem? Riders might potentially slam into the top or sides of the slide and become injured. The solution? Designing and adding padding to the parts of the ride where passengers could theoretically experience injuries. Although the problem was discovered before a scheduled dry dock, the ship went into – and emerged from – the dry dock without the necessary changes being implemented in such a fashion that Tidal Wave could be opened to the public.
But this week, the Royal Caribbean blog reported that the slide has at long last opened. And sure enough, Royal Caribbean's official Twitter feed send out a tweet reading "Ride the Tidal Wave" along with a picture of guests enjoying the slide.
Liberty of the Seas is currently sailing Caribbean cruises out of Galveston, Texas.