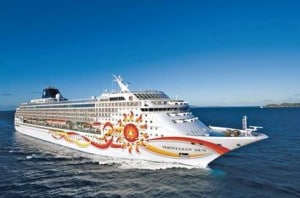 Norwegian Cruise Line is offering guests the opportunity to take advantage of limited time savings on cruises through awe-inspiring Alaska. Those who book a new Alaska cruise reservation on Monday, April 15 or Tuesday, April 16, 2013, will receive up to $200 to spend on board. Air credits, up to $500, are also available on select sailings and this special offer is also combinable with exclusive military and AARP member discounts. In addition, those wishing to travel solo in Alaska have the opportunity to take advantage of special fares for solo travelers on select sailings.
Adventurers can set sail on board the youngest fleet sailing in Alaska and get ready to explore the breathtaking coastline on their choice of three modern ships: Norwegian Sun, Norwegian Jewel and Norwegian Pearl. An Alaska cruise is a once in a lifetime chance to sail past mountainous glaciers, feel the splash from breaching whales and toast to these unparalleled experiences under the midnight sun.
Norwegian Sun sets sail to Alaska from May 13, 2013 through September 9, 2013, offering a series of seven-day cruises from either Vancouver, British Columbia or Whittier, Alaska, with fares starting at $399*. Guests can choose to combine these itineraries for the ultimate 14-day Alaskan Adventure, with fares starting at $879*. In addition to the Bonus Day offer, families cruising on Norwegian Sun with kids, ages 17 and under, who are sailing with two adults in the same stateroom will receive an additional 50% off their cruise fare and guests who book an Alaska Cruise Tour in conjunction with their Norwegian Sun cruise will receive an additional $100 on board credit.
Norwegian Pearl and Norwegian Jewel also provide guests with an unparalleled Alaska cruise experience as both ships set sail from Seattle to some of the most scenic Alaska destinations including Juneau, Skagway, Glacier Bay, Ketchikan, as well as a stop in Victoria, British Columbia. Norwegian Pearl sails a series of seven-day cruises every Sunday from May 19, 2013 through September 22, 2013, with fares from $479*, and Norwegian Jewel sails every Saturday from May 18, 2013 through September 14, 2013, with fares starting at $479*.
The sale for these Norwegian Alaska cruises ends Tuesday.
Source: Norwegian
Subscribe to our Cruise Updates.
Related articles