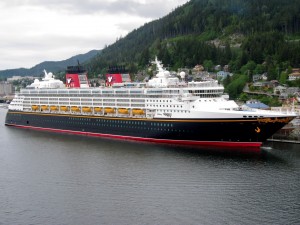 The Port of San Diego announced it'll officially begin its 2012-2013 cruise season on Friday, welcoming Disney Cruise Lines' 2,700-guest Disney Wonder.
Disney Wonder will enter San Diego harbor at 7am and disembark guests at 8:30am.
"We are pleased to welcome Captain Dib, the crew and the passengers of the Disney Wonder to the Port of San Diego," said Lou Smith, Chairman of the Board of Port Commissioners. "We hope they enjoy the region's many attractions and we appreciate the economic impact this visit brings."
To commemorate this inaugural visit, a ceremonial plaque exchange will take place onboard the vessel at 11:30 between Disney Cruise Line Captain Fabian Dib, City of San Diego Mayor Jerry Sanders and Port Commissioner Bob Nelson.
The upcoming cruise season is scheduled to bring 85 ship calls with 270,000 cruise passengers.
Subscribe to our Cruise News Updates.