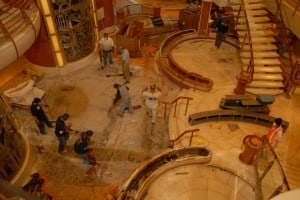 SANTA CLARITA, Calif. (January 9, 2012) – Sapphire Princess arrives today at the Victoria Shipyards drydock in British Columbia to begin a dramatic, four-week transformation. The drydock continues a multi-year fleet renovation process that has brought Princess Cruises' signature features to most of its ships.
When the ship re-enters service again on February 4, passengers will be able to enjoy a brand-new Piazza atrium with the International Café and Vines wine bar, plus the new Alfredo's Pizzeria. On the top decks, passengers will enjoy poolside movies on the new giant Movies Under the Stars screen, and an opportunity to relax in the ship's "pocket of tranquility," the adults-only Sanctuary.
"It's been an incredible process over the past few years to retrofit these popular features onto our earlier-introduced ships, but we know our passengers appreciate that they can now find their favorite amenities on virtually any vessel in our fleet," said Jan Swartz, Princess Cruises executive vice president.
Throughout the drydock, Princess will be featuring a daily photo highlight of the transformation on its social media outlets, including Facebook, Twitter, Flickr and Google+.
The many changes to Sapphire Princess include:
New Piazza Atrium – The ship's atrium space will be redesigned to include this signature Princess feature – a European-inspired social hub of the ship combining always-changing quick bites and light meals, beverages, entertainment, shopping and guest services. The Piazza will feature the International Café for pastries, fresh panini sandwiches, salads, fresh-baked cookies and a variety of coffee drinks. Passengers will also enjoy a new Vines wine bar offering a selection of more than 30 wines by the glass, plus a selection of tapas and sushi, and a wine shop where passengers can purchase their favorite bottle.
Alfredo's Pizzeria – Introduced last year aboard Grand Princess, Alfredo's will expand to its second location on Sapphire Princess. The sit-down pizzeria serves up an enticing menu of freshly prepared, hand-stretched, individual-size pizzas. Named for the line's master executive chef, Alfredo Marzi, the pizzeria will feature an open kitchen where passengers can watch chefs create their custom-made pies.
Movies Under the Stars – Sapphire Princess will be the final ship to introduce Movies Under the Stars on board. The giant poolside movie screen will showcase feature films, concerts, awards shows and sports events, and passengers can enjoy their viewing on padded loungers under warm, fleece blankets. Complimentary popcorn and other treats enhance the al fresco entertainment experience.
The Sanctuary – Sapphire Princess is also the final ship to receive The Sanctuary, a tranquil retreat exclusively for adults. Added prior to drydock, the new Sanctuary space has already received an enthusiastic welcome from passengers enjoying the enhanced comforts of this peaceful oasis, as Serenity Stewards attend to their every need, offering refreshing beverages, light snacks, pre-loaded MP3 players, and the cooling mist of an Evian atomizer.
Also part of the renovation are several relocated and upgraded venues, including the Art Gallery, Internet Café and Library, and the Photo-Video Gallery. New carpet and upholstery will be installed throughout the ship, and staterooms will feature new flat-screen televisions.
The newly renovated Sapphire Princess will debut on February 4 in Los Angeles when the ship will depart on a 14-day Hawaiian Islands cruise.
Source: Princess Cruises