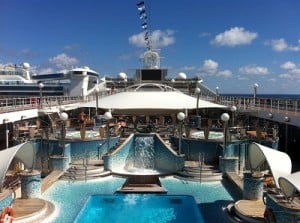 As I mentioned yesterday, embarkation was a breeze on MSC Poesia. By the time I arrived at the terminal there was not line and I walked right in. When you're taking a MSC Caribbean sailing it isn't necessary to check-in online and register before the cruise. The pdf document you get with every ticket has all the info and your baggage tags on it. I just walked up with my paperwork and passport and I was on. The do a $150 hold for seven night sailings on your credit card.
When you board the ship you embark on deck 6 which dumps you into the main atrium. I didn't check any bags so I had my camera gear, backpack and roller bag with me and was able to go straight to my room. Taking advantage of the ship being empty, I walked around and shot a lot of video.
Our room is on deck 10, aft. Not a bad room, a balcony state room. I've sailed this ship before so I kind of knew what to expect. I have someone traveling with me and they didn't separate the beds but they told me they would during dinner. You can see the below picture to get a general idea of the room.
There wasn't a dining time on my sea card so I went to the main dining room and stood in line to talk to the matire d. He was in a little room and we went in one at a time to talk to him (picture the Godfather), he was very accommodating and gave us our table assignments. We have second seating dining in the main dining room at 8:15 (it's normally 8p but because of embarkation today it was 8:15).
The muster drill was very simple. It happened at 4:30 and was over at 4:50. We got to watch all the other ships leave the port and took a lot of pictures of sail away. Our sail away wasn't until 7p, so we were the last to leave.
SAM was the production show. There was a lot more dancing and less singing, but I guess it has to be done that way. With so many different nationalities onboard, how can you do a production show in that many languages? You can't. There was a cool laser show that opened the show.
Dinner in the main dining room was actually quite tasty. Food is one thing that people can have a lot of opinions on, for me, it wasn't bad. The food was hot, good and I tried something for the first time that I've never had, Curried Mahi. I also had a side of smoked salmon, salad and a cannoli. All were great.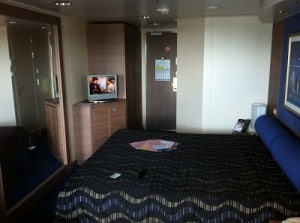 After dinner we went up to the S32 disco to check it out and it wasn't open yet. Either Italians party too late or I'm just getting old! I was back in the cabin by 11p and started working on the game plan for videotaping on Sunday. See, we have two days at sea before we get to St. Martin, so plenty of time to get a game plan together.
To answer our first listener question:
Do they speak multiple nationalities on board? Yes, the do. To the typical unseasoned traveler I could see it getting annoying, hearing everything in five different languages but it isn't awful. Our lifeboat drill was in English (I feel they had different drills for the nationalities). On our voyage we have English, French, German, Italian and Portuguese. As long as you can roll through the punches and are open minded, it's not that bad. The show SAM, their introduction took a few minutes blasting through every language. The ship does have different activities for different languages. Be opened minded and you'll be fine. Be self-centered—thinking that everything should be about you – you'll hate it.
Tomorrow is one of two sea days. I'll be curious to see how it works out with so many people on one ship. I'll observe the dining, pool and public areas. It will be a good determination to see if there are any areas of mass congestion.
Subscribe to our Cruise News Updates.