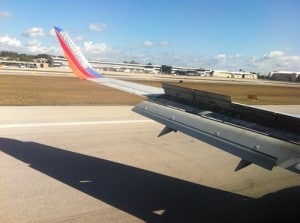 SeaBlog: MSC Poesia – Overview
Today is the day that I leave Jacksonville, Florida, hop on a Southwest Airlines flight and take the few minute flight down to Fort Lauderdale to catch a seven-night sailing on MSC Poesia.  MSC Cruises' Poesia does a seasonal stint in Port Everglades.
The morning started really early (for me) as my flight left at 9am. One of those "storms of the century" were pounding down on the northeast this weekend so I was wondering if my flight would be delayed of stay on time. Turns out my flight came in the night before and the FLL flight was the first one of the day for this 737 aircraft. Southwest two bags fly free and they are straight to the point, I like them, a lot. Plus having a direct flight to Fort Lauderdale is cheap ($69 each way) and easy.
Getting on the ship was smooth as silk. I got to the pier, checked in and board the ship after waiting for about 20 minutes. The reason there was the wait is because I came straight from the airport to the pier and the ship wasn't cleared to board yet. I arrived at the pier at 10:30. I'll have more on the ship experience coming up on later postings.
Five other ships were in port with us today. Caribbean Princess, ms Eurodam, Carnival Freedom, Oasis of the Seas and Celebrity Eclipse. It was cool seeing so many ships though not a drop in the bucket from an average 10 or 11 ships during peak season.
On this sailing we will have three ports of call in the Southern Caribbean and Bahamas: Philipsburg (Netherland Antilles); San Juan, Puerto Rico and Nassau, Bahamas.
Since I mentioned I was sailing on MSC Poesia, folks have reached out on Twitter, Facebook, Instagram and email asking questions. Throughout this cruise we will answer the following questions that were asked by listeners of Cruise Radio.
Do they speak multiple languages on board?
How is the food in the main dining room?
What are the accommodations like?
How do you entertain in many languages?
What are sea-days like?
Do they 'nickel and dime you' onboard?
What is the kids program like?
For now it's off to the lifeboat drill, watching one of their shows, sail away and second-seating dinner. Since the ship has a mixed North American and European guest count, a lot of folks are coming from Europe so the ship doesn't leave until 7p.
Subscribe to our Cruise News Updates.
Related articles