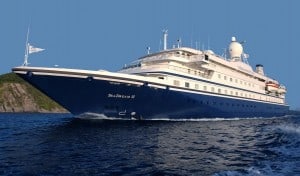 The 56-stateroom SeaDream II will sail the Amazon River beginning February 10, 2013 departing from Barbados. Offered as a 20-day voyage; Barbados to Iquitos, Peru, or two 10-day voyages; Barbados to Manaus, Brazil or Manaus to Iquitos. New in 2013 are two 7-day Upper Amazon voyages sailing from Iquitos, Peru roundtrip. SeaDream is nimble enough to go upriver, deep into the Peruvian rainforest.
In total, SeaDream has eight Amazon voyage options in 2013. James Cabello, Manager of SeaDream's Land Adventures said "our land packages have been tailor-made to include comfort and authenticity. I've scouted out the best experiences with highly qualified guides."
Highlights of Pre and Post Voyage Adventures to Machu Picchu:
•Visit Urubamba Valley, the Sacred Valley of the Incas.
•Get up close with llamas, fall in love with alpaca, and see ancient weaving techniques still in use.
•Enjoy a gastronomic feast at Wayra Ranch, hosted by Chef, Pedro Miguel Schiaffino.
•Watch stunning equestrian demonstrations of the Peruvian Paso horses set to Marinera music.
•Tour the fortress of Ollantaytambo.
•Take a spectacular 3 ½ hr. ride aboard the Orient Express luxury train, the Hiram Bingham (brunch served while the spectacular Andean scenery passes by).
•Relish the views while having afternoon tea at the Machu Picchu Sanctuary Lodge Hotel.
•Watch the sunset with only a handful of others at Machu Picchu, where you'll stay overnight.
•Wake up in Machu Picchu and experience sunrise from your elegant, peaceful hotel.
•Tour Cusco ("Archaeological Capital of the Americas") and its Inca walls.
•Visit Cusco's Pre-Columbian Art Museum by night, dining at the Museum's restaurant featuring Novoandina cuisine.
•In Lima, savor an authentic Peruvian lunch followed by a panoramic tour of the "City of the Kings".
Source/photo: SeaDream
Subscribe to our Cruise News Updates.