Holland America Line and Seattle's Sound Transit Light Rail System launched three new commuter "ships" earlier this week.  The trains are wrapped to resemble ms Koningsdam, and will cruise the tracks through April 2017, when the summer cruise season to Alaska begins.
A special ribbon-cutting ceremony was held at the University of Washington Station, with Holland America President Orlando Ashford and 11 year-old cancer survivor and patient of Seattle Children's Hospital – Miles Lamb.  Holland America Line presented a $5,000 check to Strong Against Cancer, an effort to gain funding for a cancer immunotherapy treatment being developed at the hospital.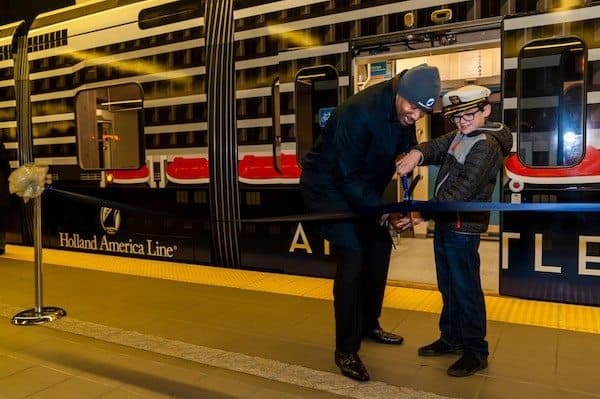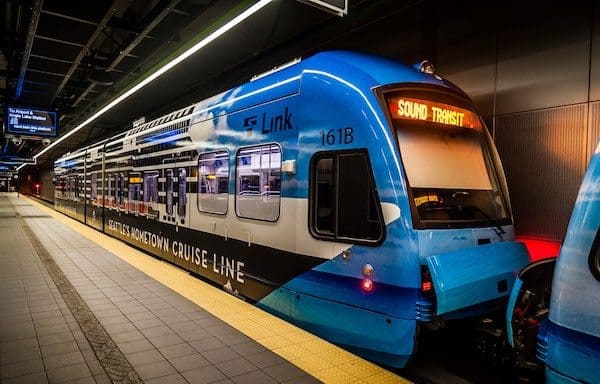 As Seattle's Hometown Cruise Line, Holland America contributes $389 million to the city's economy, and $547 million across Washington state.  The company employs 1,170 people at its headquarters in Seattle, and works with over 600 local vendors.  They are partnered with Seattle Children's Hospital, Northwest Harvest, and the Seattle Mariners Major League Baseball team.  During this year's Alaska season, over 100,000 guests will sail Holland America ships from Seattle.
Photos: Holland America Line