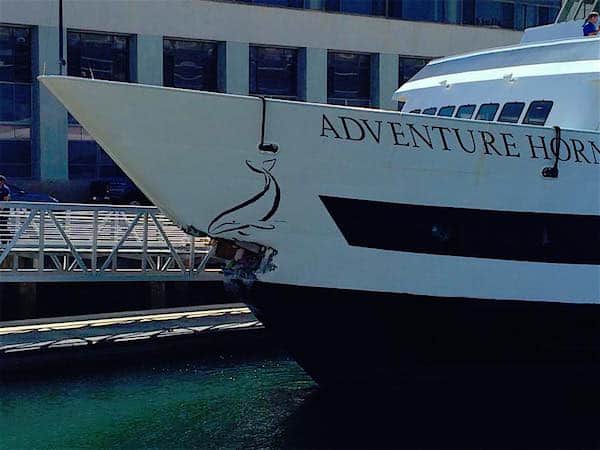 Passengers aboard the Adventure Hornblower got more than they bargained for when the whale-watching ship, apparently suffering a propulsion problem, careened into a concrete seawall at the San Diego pier. According to CNN, three passengers were taken to area hospitals with "traumatic injuries," while others were treated at the scene and released.
"I was there shortly after it happened," a passenger aboard the Crown Princess, which had been docked in San Diego at the time of the incident, tells Cruise Radio. "We were walking back to the ship as they were releasing people from the boat. Everyone had to be checked out by the medical staff."
Perhaps more frightened even than those on board were tourists watching the ship pull in. Video from the scene shows that upon realizing that the Hornblower wasn't slowing down, people on the pier panicked and ran to get out of the way.
Fire Captain Joe Amador told local media that none of the injuries were life-threatening, although several were removed via stretcher. Those not injured were forced to remain on board the Hornblower – a 150-foot vessel carrying 139 passengers and five crew members – for approximately 90 minutes until a tug boat could reposition the ship to a section of the dock which had not been damaged.
The entire incident was caught on video, which you can see by clicking here.