Silversea Cruises has now opened bookings for the inaugural season of its new ship Silver Endeavour, which was formerly Crystal Endeavor with Crystal Cruises.
One of the world's most luxurious expedition vessels, Silver Endeavour will set sail on 12 voyages to Antarctica starting November 21, 2022. Itineraries will range from five to 20 days long, and include Silversea's Antarctica Bridge fly-cruise sailings, as well as an extended "Deep South" expedition and a new 10-day Antarctica Peninsula voyage.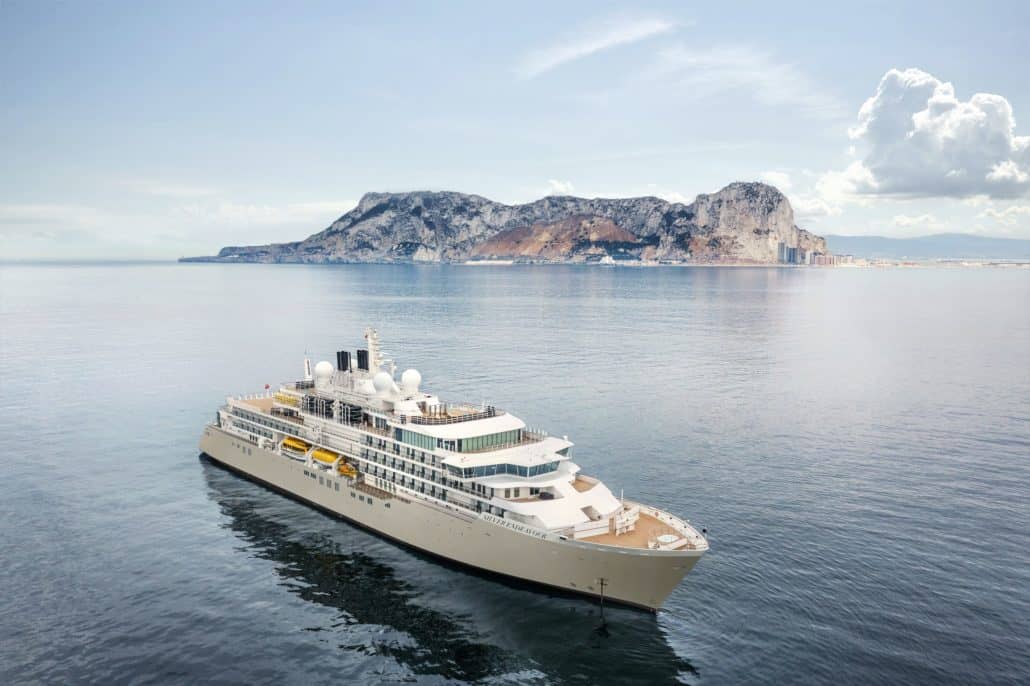 Antarctica Itineraries
From November 21, 2022 to March 14, 2023, Silver Endeavour will sail 12 voyages:
10 Antarctica Bridge Fly-Cruise Voyages
The ship will welcome guests on 10 Antarctica Bridge fly-cruise sailings, including the maiden voyage, starting November 21. Offering the fastest, most direct route to Antarctica, this itinerary enables guests to skip the Drake Passage and fly directly to King George Island to embark the ship.
Travelers will journey deep into Antarctica on five to nine-day cruises, exploring destinations including the Antarctic Peninsula, the Antarctic Sound, and the South Shetland Islands.
On each voyage, 20 expedition experts, including marine biologists, historians, naturalists, archaeologists, and more, will share their knowledge with guests, offering one of the most personalized expedition experiences at sea.
One Deep South Antarctic Expedition
Departing roundtrip from Puerto Williams on February 12, 2023, Silver Endeavour will journey to the South Shetland Islands, the Antarctic Sound, and the Antarctic Peninsula before attempting to cross the 69th parallel south on Silversea's first-ever 20-day "Deep South" expedition.
The sailing will offer passengers the chance to access some of the world's most remote and extreme destinations, exploring Antarctica first-hand, and witnessing the continent's rare wildlife and unique landscapes.
MORE: Port Canaveral to Receive $1.9 Million for Security Upgrades
One 10-Day Antarctic Peninsula Cruise
Concluding Silver Endeavour's inaugural Antarctica season, guests will set sail on a brand-new 10-day voyage to the Antarctic Peninsula, roundtrip from Puerto Williams on March 4, 2023.
Travelers will spend six days exploring the peninsula, and will be likely to see penguin colonies, other bird species, different seal species, and other marine life.
Silver Endeavour's Suites
Silver Endeavour features some of the most spacious all-balcony suites in expedition cruising, with accommodations ranging from 356 to 1,868 square feet.
Silversea Cruises has announced seven suite categories on board:
Owner's Suite
At 1,868 square feet with a 737 square foot balcony, the Owner's Suite is the largest on the ship, located in a premium spot at the bow on deck seven. It features a large living room, separate dining room, a bar area, and two bedrooms with bathrooms.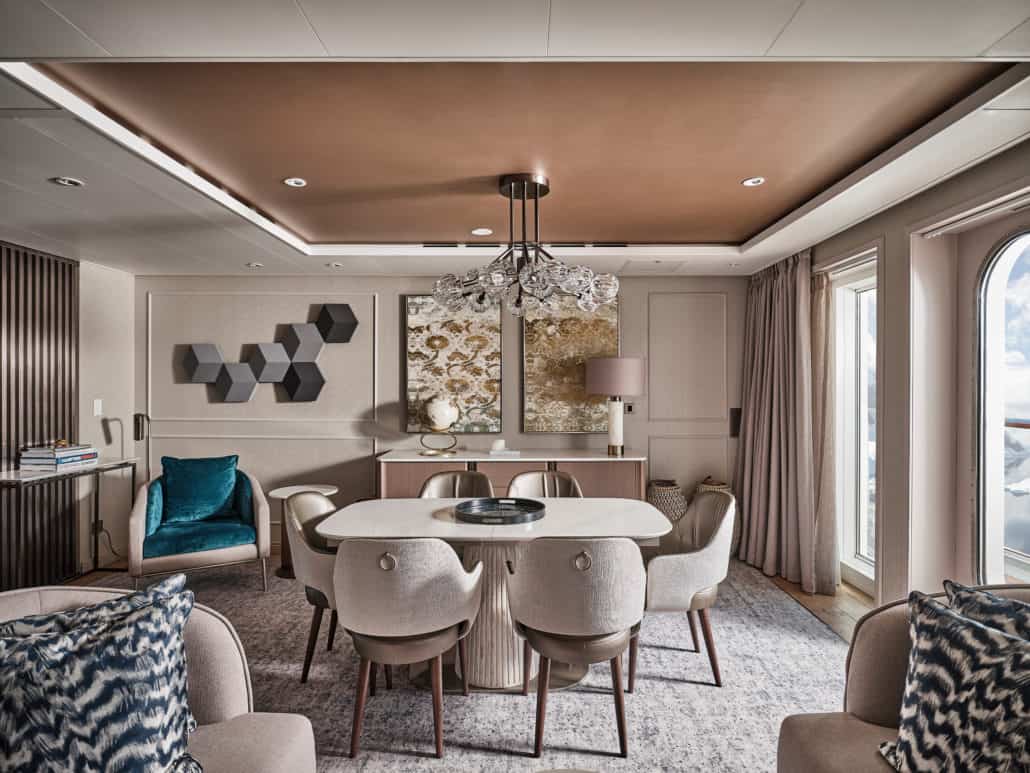 Grand Suite
The ship's Grand Suite, also on deck seven, is 1,668 square feet and has a 684 square foot balcony. It includes a living room, separate dining area, a bedroom with a walk-in closet and bathroom, and an additional bedroom area that can accommodate a third guest.
Silver Suite
Eight 535 square foot Silver Suites are on deck eight, featuring floor-to-ceiling windows in all living areas, with 78 square foot balconies. These suites have living rooms, separate dining areas, and bedrooms with a large walk-in closet and bathroom.
Other Suites
Lastly, Silver Endeavour has 90 Premium, Deluxe, Superior, and Classic Veranda Suites between decks five and eight.
At 356 square feet, each Veranda Suite includes a walk-in closet, bathroom with large walk-in shower, spacious living and bedroom areas with convertible sofas, and a writing desk. 52 square foot balconies offer sweeping views of the destination and ocean.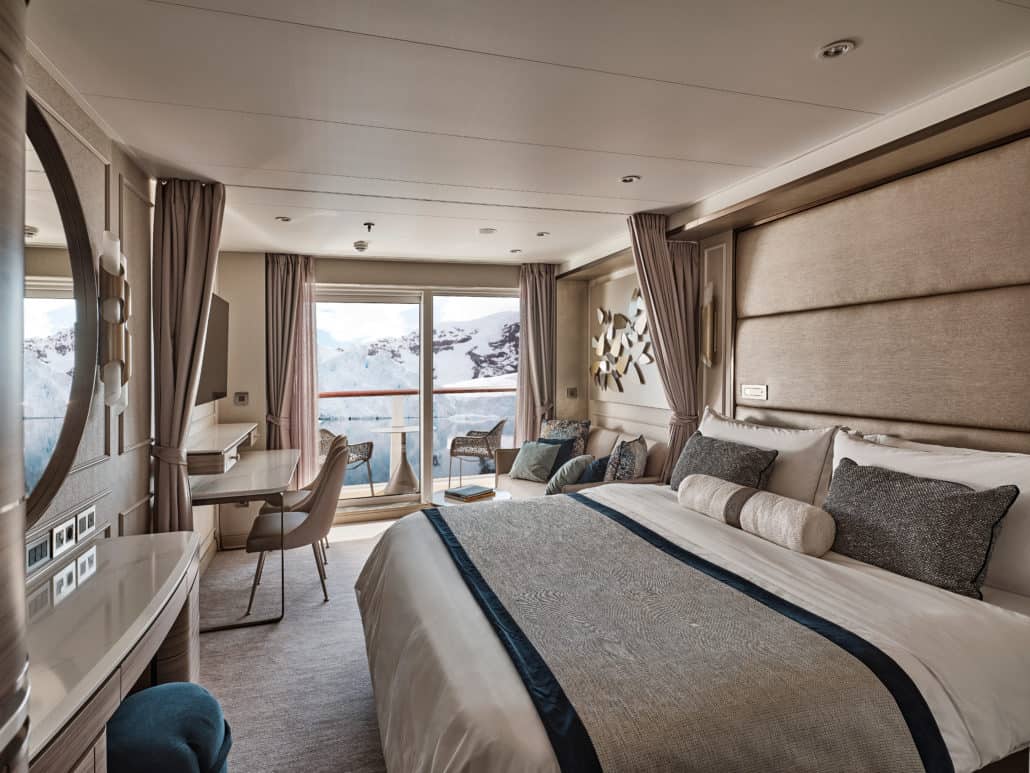 READ NEXT: Residential Cruise Ship Company Signs Contract With Shipyard