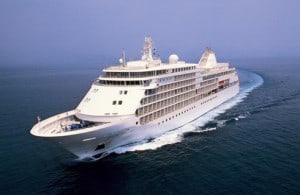 Luxury Silversea Cruises announced their 2014 World Cruise today, a 113-night journey from Los Angeles to Barcelona aboard Silver Whisper.
Embarking January 6, 2013, this sailing will hit 54 destinations, 29 countries and 12 overnight stays.
Silver Whisper will follow a westward path across the Pacific to call on lush Polynesia and lands Down Under, including Hawaii, Samoa, Tonga, Australia and New Zealand. From there, the ship will sail up to the remote island of Koror and then head west to spend a month exploring fascinating Asian cultures — from China, Japan, and Vietnam to Thailand, Singapore, and India — including three days in Yangon, Myanmar. Silver Whisper will conclude her global tour calling on modern capitals and ancient cities in the Mediterranean.
Guests can also choose to extend their voyage by tagging on a Panama Canal sailing, Barcelona to Lisbon or Southampton.
Silversea World Cruise prices start at $54,500 per person with many amenities like gratuities included.
Subscribe to our Cruise News Updates.