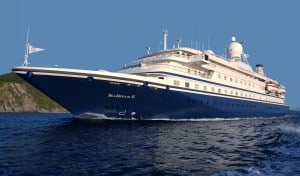 SeaDream Yacht Club just released its 2013 year-end voyage schedule and for the first time the luxury, mega-yacht SeaDream I will be transiting the Panama Canal to spend several weeks sailing along the "rich coast" of Costa Rica.
November 9, 2013, SeaDream I will sail from Barbados to Panama City, Panama. The 10-night voyage calls on Isla de Margarita and The Los Roques Islands of Venezuela; Curacao; Cartagena, Colombia; San Blas, Panama including a transit of the Panama Canal; all of which are "firsts" for SeaDream. From Panama, SeaDream sails to Caldera, Costa Rica, making it her home port for six consecutive voyages. The last of these voyages spends New Year's Eve in vibrant Panama City, Panama.
SeaDream has arranged for a highly qualified Naturalist to sail aboard all Costa Rica voyages. This paradise of active volcanoes and beautiful beaches has abundant wildlife including 1,000 butterfly species and 1,200 varieties of orchids. The surfing, hiking, rafting, zip lines and deep sea fishing is among the best in the world.
SeaDream's itineraries include:
Isla de Coiba, Panama – A UNESCO World Heritage Site, Coiba National Park is one of the last places in Central America the Scarlet Macaw lives in large numbers in the wild.
Golfito, Costa Rica – Remote and rugged, its home to the beautiful Wilson Botanical Gardens and the natural reserve and wildlife refuge of Piedras Blancas National Park.
Drake Bay, Costa Rica – One of the most secluded spots in Costa Rica. Its spectacular lagoons and coves are ideal for scuba and snorkeling; See humpback and killer whales as well as several species of dolphins.
Isla del Cano, Costa Rica – An amazing marine reserve with fantastic underwater visibility; See sea turtles, dolphins, stingrays, manta rays, moray eels and more.
Quepos, Costa Rica – One of the best places in the world for big game sport fishing. Manuel Antonio National Park is a main attraction along with canopy tours, horseback riding, kayaking, rafting and surfing.
Tortuga Islands, Costa Rica – White sand beaches and emerald waters invites absolute tranquility and make it the ideal spot for SeaDream's Champagne and Caviar Splash™.
San Juan del Sur, Nicaragua – A quaint fishing village where thatch-roofed restaurants line the long, sandy beach. Visitors will want to see the nearby Masaya Volcano.
Playa el Coco, Costa Rica – Surrounded by steep hills, this horseshoe shaped bay is among the most well-known beaches in the country. offering great surfing & nightlife.
Playa Flamingo, Costa Rica – Perhaps Costa Rica's most upscale beach destination, ideally situated near the Santa Rosa National Park and the Palo Verde natural reserve.
With so much to see and do, SeaDream is offering a 2-night/3-day Pre or Post-Voyage land package which includes accommodations at the Real Intercontinental Hotel, meals (including lunch at the elegant, Villa Caletas Hotel), transfers, guided visits to Poás Volcano National Park, Sarchi Town and a city tour of San Jose with its opulent National Theatre and National Museum.
Source/photo: SeaDream
Subscribe to our Cruise News Updates.