"Bigger is better" seems to be the motto adapted by the major cruise lines over the past few years, but many are hoping that smaller cruise ships could be making a return in the future. And while there are many reasons explaining the proliferation of large ships — and why they'll continue — there are some signs that those looking for a return to the days of smaller cruise ships might eventually get their wish!
More Cruisers, More Profit
In simple economic terms, bigger ships equal larger profits for cruise lines thanks to the fact that more passengers equals more profits, especially when you factor in the cash cruisers spend once they've boarded the ship. And of course, big ships — with all the accompanying bells and whistles — attract a lot of attention from the media and, as a result, tend to catch the eye of consumers. and in particular, younger cruisers. One need look no further than the mainstream attention Norwegian Cruise Line got a few weeks ago, with everyone from the L.A. Times to AutoGuide.com doing stories about the ship's top-deck go-kart track. (And you can bet the execs at Norwegian were beyond thrilled to see the latter's headline declare that this feature "Might Even Convince Us To Go On A Cruise," given that that's exactly the reaction you want such a bold move to receive!)
Recent reports from the Cruise Line International Association have indicated that the bigger, better, bolder approach being taken by cruise lines is definitely working… especially when it comes to attracting younger cruisers. And every industry, from cruise lines to soft drinks, is looking to hook consumers when they are young in the hope of making them life-long customers. So again, it's easy to see why Norwegian, Royal and Carnival Cruise Lines have all rolled the dice on bigger ships.
But for those who think that size isn't everything, there may still be hope.
Smaller Cruise Ships On The Horizon
When Richard Branson-led Virgin Voyages — formerly Virgin Cruise Line — announced its intention to join the field, they did not take aim at knocking Royal Caribbean off the World's Biggest Ship list. Instead, the company's initial ships, the first of which is set to launch in 2020, will fall into the mid-size range at around 1110,000 gross tons and carrying an estimated 2,700 passengers. For the sake of comparison, the Carnival Sunshine comes in at around 103,000 gross tons and carries around 2,650 passengers.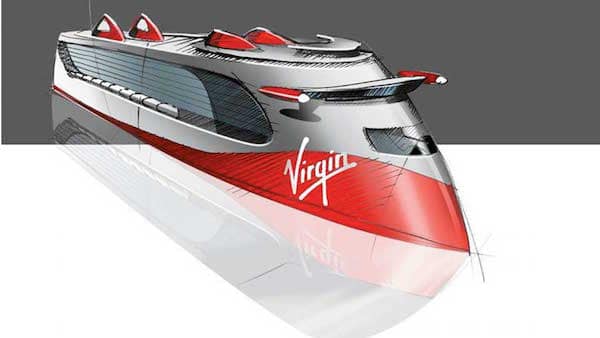 Meanwhile, Disney Cruise Line's recently announced new ships will come in at around 135,000 gross tons, which is slightly larger than their previous biggest ships (the Disney Dream and Disney Fantasy), yet is expected to have approximately the same number of staterooms as those ships. This will presumably allow for more, and larger, public spaces.
Plus, even at this new, slightly-larger size, the Disney fleet's newest additions will still prove significantly smaller than Royal Caribbean's currently-under-construction Symphony of the Seas, which will weigh in at 230,000 gross tons and, upon assuming the title of Largest Passenger Ship Ever Built, prove that whether or not bigger is actually better, it will certainly continue to be the standard bearer.