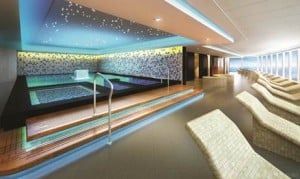 More details were revealed today about the upcoming 4,000-guest Norwegian Breakaway's spa and fitness facility that will span over 23,000 square feet.
Offering 22 treatment rooms over 50 services, Norwegian Breakaway's tranquil two-level Mandara Spa and thermal suite will offer guests the perfect respite and will feature the first-ever salt room at sea.
A full service salon will also be offered and a Barber Shop exclusively for the men.
The fitness area will feature the first-ever Nexersys® interactive fight training modules at sea, offering guests the opportunity to engage in high-intensity, interval training against an avatar, through the use of a simulator. Boxing lovers will also enjoy Norwegian's all new "Freestyle Fight Klub," which combines Nexersys® training with a cardio boxing class, utilizing the fitness center's 12 heavy bags. Plus, the first ever "Black Light Spinning" class at sea and all the typical cardio equipment and free weights.
Norwegian Breakaway is scheduled for delivery April 2013.
Subscribe to our Cruise News Updates.
Related articles